Earlier today, President Trump tweeted a doctored photo of his rival Joe Biden using an old Nickelback meme.
The tweet included a meme from a Nickelback video with the phrase, "LOOK AT THIS PHOTOGRAPH."
The tweet contained a video with a doctored photo relevant to the Ukraine controversy. The video took aim at Joe Biden, opening with a clip in which Biden says he never discussed business dealings with his son. The tweet also doctors a well-used clip from Nickelback's video for "Photograph."
In the edit shared by Trump, the photo held by lead singer Chad Kroeger's is replaced by one of the Biden's in 2015.  It shows the then-VP on a golf course with Devon Archer ⁠— an ex-Ukraine gas executive.  Within 12 hours of being posted, the meme was removed from Twitter.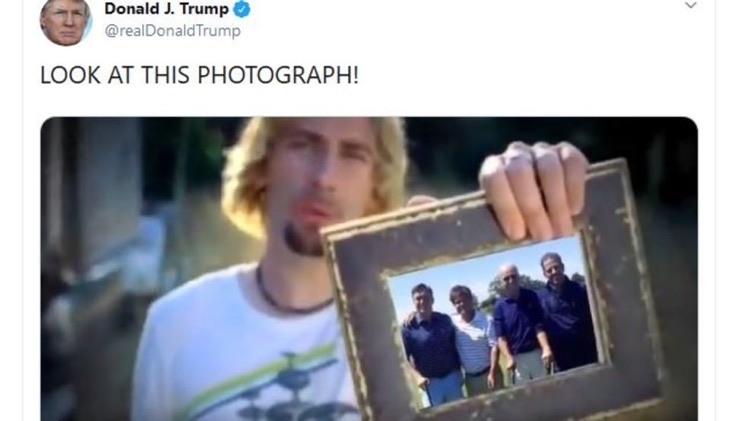 The DMCA takedown notice appears to have been filed by Warner Music.  The copyright takedown notice suggests neither Warner Music nor Nickelback is on board with the association.
Interestingly, Warner Music Group has been solidly pro-Trump in the past — or at least supportive of an ardently pro-Trump artist. The company offered a slew of Trump-themed merchandise from Kid Rock, with WMG unit Warner Records promoting and selling the MAGA-inspired line on its website.
But a lot of this has to do with the artist's wishes.  And in this case, Nickelback doesn't seem to be willing to associate with Trump.
Trump has had at least seven DMCA takedown notices filed against his Twitter account this year. All of those have resulted in the removal of content. What's worse is that the same video was eventually uploaded to the official White House YouTube channel. Warner Music was quick with another DMCA takedown notice to get that video offline, too.
In the predictable aftermath, Nirvana bassist Krist Novoselic has stepped up to defend the Canadian rockers from conservative news outlets.
After one conservative media host made the assertion that he thinks "Nickelback is like socialism," the rocker responded on Twitter.
"Who is this jerk? Nickelback is a is power pop rock band & I love them!!!! They are Canadian BTW. The USA can work well because of the uneasy marriage between socialism and capitalism here. There is push and pull—so be weary of those on the fringe advocating one way or another."
It's strange to see a meme from an internet video from 2005 relevant again. Aerosmith has been fighting against Trump's use of their songs for years now.