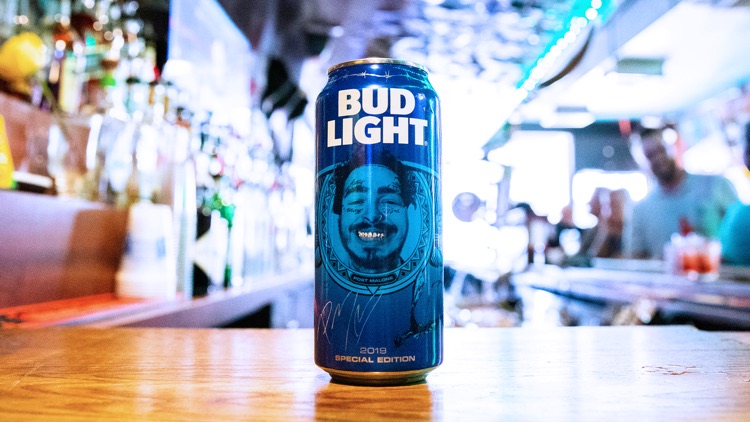 Or, maybe it's the other way around? Introducing the limited-edition, 16 oz. Bud Light can featuring the mug of Post Malone.
For those that enjoy the taste of Bud Light and the music of rapper Post Malone, the best of both worlds have now been combined.  The massive branded partnership builds on Post Malone's professed love of Bud Light, with Budweiser subsequently offering a gigantic check to make the relationship official.
Just this week, Budweiser started rolling out its limited-edition, 16 oz. Bud Light cans emblazoned with the mug of Malone. These markets are all on Post's sold-out Runaway tour, and include Salt Lake City, Denver, El Paso, Laredo, San Antonio, Austin, Dallas, Houston, McAllen, Oklahoma City, New Orleans, Chicago, Washington, DC, Boston, and New York City.
The can's design (pictured above and in more detail below) includes Post's face and his autograph, along with a reimagined Bud Light icon. It's clearly inspired by Post Malone's Texas upbringing and his tattoos.
"The design features a reimagined Bud Light's iconic crest with Post's face front and center, as well as his autograph and draws inspiration from Post's tattoos: barbwire, swords and medieval dragons while paying homage to his hometown in Texas with state outline and steer skeleton," a Bud Light exec emailed Digital Music News.
Post says he was "very passionate" about making this happen and that "it's so sick to see my mug" on a can of a beer.  It's a dream very few can realize.
The special-edition Post Malone Bud Light can was first announced in early August, during his appearance on "The Tonight Show with Jimmy Fallon."
At this time, Post and Fallon played a game of beer pong, which served as the perfect means to introduce people to the can.
On the show, Post also talked about his latest album Hollywood's Bleeding, which features Ozzy Osbourne, Meek Mill and Travis Scott among others.  The record so far has been a huge success, with Ozzy also feeling a nice late-career bump from the collaboration.
Hollywood's Bleeding was the follow up to last year's beerbongs & bentleys album, which features tracks like "Rockstar" and "Candy Paint," among other smashes.