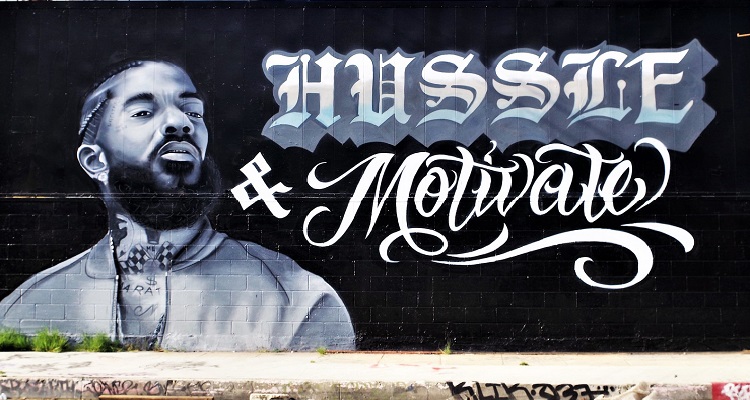 Rob Kenner, the founding editor of Vibe, will be writing a biography of slain rapper Nipsey Hussle.
The 'unauthorized' biography will be entitled The Marathon Don't Stop: The Life and Times of Nipsey Hussle and is expected to be published by Atria Books on March 24th of next year.
The late rapper, whose real name was Ermias Asghedom, was murdered this past March in Los Angeles outside his Marathon Clothing store.  A few days later, authorities arrested Eric Holder and charged him with Hussle's murder.
According to details tipped by Kenner, the book will be more than just a narrative retelling of his Hussle's life. It will also include commentary from the rapper himself as well as interviews of those who knew him well and who have not yet had their say.
Kenner is one of those who knew Hussle.
He says that, when he spoke to him last, Hussle told him that he preferred not to give things to people, such as jewelry or money. Instead, he gave out "game." Kenner adds that his book is his attempt to fulfill Hussle's intention.
"The things he rapped about were drawn directly from his life, and telling his truth and saying every word like he meant it was more important to him than fancy cadences or verbal pyrotechnics," Kenner told Complex.  "That authenticity is what made him stand out amid the musical maelstrom of the blog rap era, and it's what will make his best work stand the test of time."
According to Kenner, Hussle's family did not authorize him to write the book. But he will still give a portion of the book's proceeds to Hussle's estate anyway.
Kenner believes that Hussle was "one of the most fascinating artists of our time." He also believes that the rapper was "an important activist and thought leader." At the same time, Kenner thinks that Hussle did not receive much acclaim during his life, so he hopes that his book will "set the record straight."
Indeed, Hussle enjoyed substantial notoriety within the rap community, especially in Los Angeles.  But his fame wasn't massive, especially compared to other rappers like Drake or Post Malone.
Atria Books' Michelle Herrera Mulligan will edit the book. "Nipsey has inspired an entire generation of people who have felt invisible in their communities," Mulligan stated.
"This book will share the blueprint of Nipsey's success, drawn on the streets where he was raised."