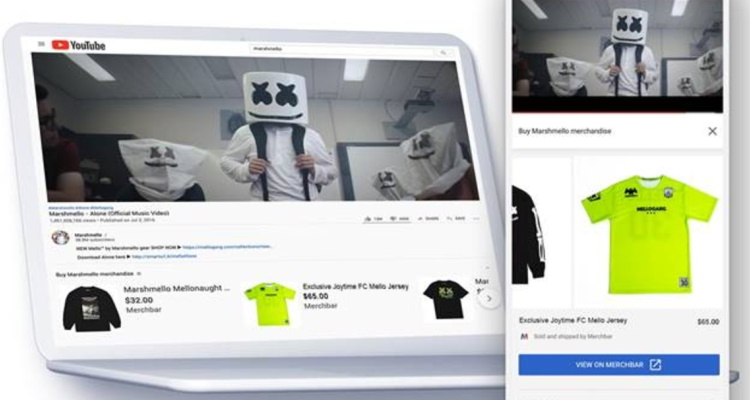 YouTube has announced a partnership with Merchbar to showcase official artist merchandise and vinyl records.  Will this finally help artists sell more stuff?
The merch will appear alongside official artist videos on the platform. Merchbar says they carry over one million items from 35,000 artists.
Only YouTube artists with an Official Artist Channel can promote their merchandise underneath their music videos.
Showcasing merchandise is part of several new features announced by the video giant last year.  Those features focus on revenue generation for artists ⁠— including channel memberships, premieres, merchandise, and more.  Traditionally, artists have struggled to make serious revenue from merch and vinyl, especially considering the costs involved.
YouTube initially partnered with Teespring at launch for its merchandising efforts. But several companies including Crowdmade, DFTBA, Fanjoy, Represent, and now Merchbar are available.
Marshmello took advantage of the promotion by offering an exclusive soccer jersey on the platform. Previous merchandise partnerships gave YouTube a small cut of the sale ⁠— it's unclear if that's the case with Merchbar.
Google is more heavily invested in YouTube Music than ever. It is trying to build the service into a worthy competitor to Spotify and Apple Music.  Recently, Google abandoned Google Play Music in favor of YouTube Music on new Android devices. That means every new Android device sold in 2020 will feature YouTube Music pre-installed.
Artists who are interested in signing up for the new merch shelf can do so through YouTube Studio.  You'll need a Merchbar store with U.S. fulfillment to be eligible.  The feature is currently only available to those in the United States ⁠— the video giant says it will expand internationally later.
Spotify partnered with Merchbar back in 2016 to integrate its retail listings into the streaming platform.  Merch shelves can help raise awareness of the artist and generate extra revenue from fans who are eager to engage with their content.  YouTube says this is a way to give fans direct access to their favorite merch drops.