The most popular concert tickets, tour stops, and artists around the country, based on SeatGeek data through Wednesday, October 16th.
Welcome to our weekly report on the world of live music, based on exclusive data from SeatGeek, a ticketing platform that enables fans to buy and sell tickets for sports, concert, and theater events. Read on for insights into the most popular artists and festivals from the prior and upcoming weeks.
Most Popular Artists and Festivals
Past Week, Based on SeatGeek Web Traffic
1. Post Malone (Rank last week: 2)
Post Malone is currently on the road in support of his latest album, Hollywood's Bleeding. Dubbed the "Runaway Tour," you can catch him this Friday at the State Farm Arena in Atlanta. He'll be joined by Swae Lee who is on tap as tour support.
2. Billie Eilish (Rank last week: 1)
Billie Eilish is more popular than ever, in part due to a stellar performance at last weekend's Austin City Limits music festival. Her "Where Do We Go? World Tour" The musician will kick things off on March 9 in Miami at the AmericanAirlines Arena followed by stops throughout the East Coast, including a show at Madison Square Garden in New York City on March 15.
3. Taylor Swift (Rank last week: 25)
Swifties are abuzz with excitement as tickets for Taylor's "Lover Fest East" went on sale earlier this week. The event is currently one of four US performances on her "Lover Tour," and will take place at Gillette Stadium in Foxborough, MA.
4. Jonas Brothers (Rank last week: 3)
The JoBros are nowhere near finished with their "Happiness Begins" tour, with dates schedule from now through the end of the year (plus a slew of shows overseas). They also recently announced that they'll be on the lineup for several stops of this year's iHeart Radio's Jingle Ball.
5. Luke Combs (Rank last week: 5)
Not only did Luke Combs recently announce the "What You See is What You Get Tour" for 2020, but he's still in the midst of his "Beer Never Broke My Heart" tour. You can catch him now through December, with a performance in Portland, OR this weekend.
_____________________________________________________________
SeatGeek "Rising" Artists and Festivals
Past Week, Based on the Percent Increase in SeatGeek Web Traffic
1. Jaden Smith +676%
Although Jaden Smith just wrapped up his stint on Tyler, the Creator's "Igor Tour," the celebrity son (and performer in his own right) is still hot in the news. Three weeks ago Smith appeared on "Red Table Talk," and he was recently spotted out with Lil Nas X.
2. Taylor Swift +391%
Taylor Swift has reclaimed her throne as the Queen of Pop, and the excitement around her upcoming Lover Fest East and West is proof. Unfortunately for North American fans, her Massachusetts and California festies are currently the only US dates on her "Lover Tour."
3. Eagles: +378%
The Eagles have recently announced dates behind the "Hotel California Tour" set for early next year. The classic band will perform the seminal album in full on the winter trek, along with the help of a full choir and orchestra.
4. Jeremy Zucker: +286%
Soulful singer Jeremy Zucker has just announced plans for a short November tour. He'll perform in NYC, Boston, Philly, LA and San Francisco, with tickets on sale now.
5. Tenacious D: +221%
Beloved goofball rockers Tenacious D are currently on tour, performing in cities throughout the US. For the rest of October, catch them throughout the South West and West Coast, including shows in Austin, Phoenix and LA.
_____________________________________________________________
Most Popular Upcoming Tour Stops and Festivals
Upcoming Week, Based on SeatGeek Ticket Sales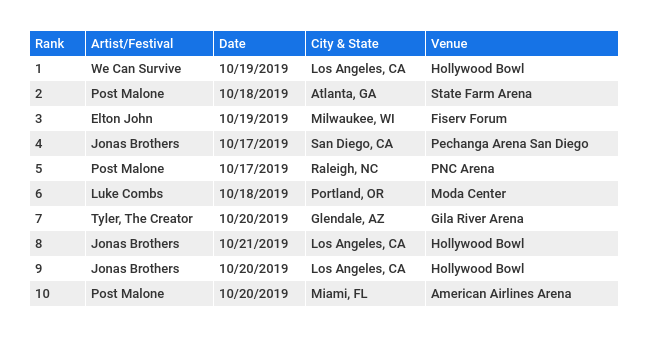 Topping the charts this week is the 7th annual "We Can Survive" charity concert, which is hosted at the Hollywood Bowl and features performances by Lizzo, Taylor Swift, Billie Eilish and the Jonas Brothers. Speaking of the Jonas Brothers, the bros are still dominating in popularity as their "Happiness Begins Tour" treks on through the country, with stops in Atlanta, San Diego and Los Angeles on this weekend's docket.
Tyler, the Creator's "Igor Tour" will begin to wind down after his show at the Gila River Arena in Glendale, AZ this weekend. The same cannot be said for Post Malone, however, who is still in the thick of his "Runaway Tour." Said tour will make stops in Atlanta, Raleigh and Miami this weekend.