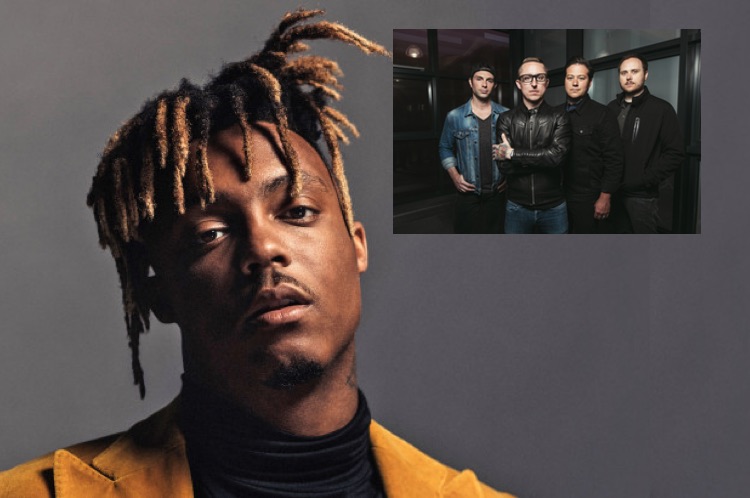 On Monday (October 21st), early 2000s emo rock band Yellowcard filed a copyright infringement lawsuit in a California U.S. District Court against Juice Wrld.
Updated, 10/22 9:30 am PT: Yellowcard attorney Richard Busch has now offered more information on the lawsuit and why it was filed.  His comments are added below.
The members of Yellowcard are alleging that the rapper used the melody and other elements from their 2006 song "Holly Wood Died" in his hit song "Lucid Dreams," and are suing for $15 million.  Beyond that, the band is demanding a cut of future royalties, or ongoing statutory damages.
Filing the suit are group members Peter Mosley, Ryan Key, Sean Wellman-Mackin and Longineu Parson. In addition to Juice Wrld, whose real name is Jared Higgins, the suit also names Interscope Records (UMG) and Taz Taylor.
Representing Yellowcard in the aggressive lawsuit is Richard Busch — the same attorney that successfully sued Pharrell and Robin Thicke on behalf of the Marvin Gaye Estate for copyright infringement on "Blurred Lines".
According to the lawsuit, "Holly Wood Died" is not the only song Juice Wrld used in "Lucid Dreams." They note that Sting's "Shape of My Heart" was also directly sampled.  They further contend that, while the rapper and his team properly licensed the Sting song, they chose to "willfully infringe" Yellowcard's song.
"This was not a lawsuit the guys wanted to file," Busch told DMN early Tuesday morning (October 22nd).  "They put all of the parties on notice to try to resolve it. That notice was pretty much ignored leaving them with no real choice. As alleged in the Complaint [see below], this is not just a generic Emo Rap song, but is  a blatant copy of significant  original compositional elements of 'Holly Wood Died 'in several respects."
Like a number of hip-hop hits in recent times, "Lucid Dreams" was recorded long before the artist became successful.
In this instance, Juice Wrld released the song on SoundCloud in June of 2017.  Though later he would include it in his debut album Goodbye & Good Riddance.
"Lucid Dreams" became a very big hit for the rapper. It reached no. 1 on both the Billboard Hot R&B/Hip-Hop Songs and Billboard Rhythmic Song charts and no. 2 on the U.S. Billboard Hot 100, where it charted for nearly a year. The song also has nearly a billion streams on Spotify alone and the video for the song has been viewed nearly 400 million times on YouTube.
In support of their case, the plaintiffs cite an interview Juice Wrld gave, in which he said that, as a child, he had a crush on a girl who was really into Emo music. Because of this, he studied the music so that he could talk to her about it intelligently.
Yellowcard was certainly a big group in the early 2000s.  Their biggest hit, "Ocean Avenue," was released in 2003 and became a massive hit.  Currently, the song has over 130 million streams on Spotify alone.