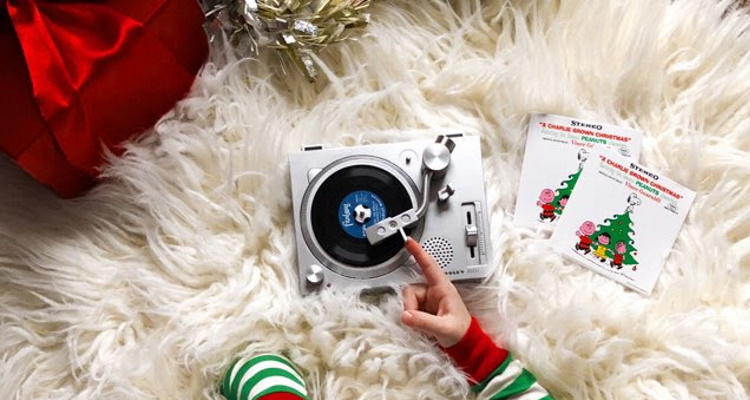 Record Store Day is releasing a new set of 3-inch vinyls for its RSD3 mini-turntable. The tiny turntable debuted in record stores across the country this year.
The mini-turntable has seen multiple releases this year from artists like All Time Low and Beastie Boys. Now a new collaboration will see vinyls based on classic animations that span several generations.
The Disney/Pixar 3-inch vinyl single series will feature songs from Disney films. Each release also includes a collector's edition poster and lyric sheet. Singles as part of this collection include "A Whole New World" from Aladdin, "A Part Of Your World" from The Little Mermaid, "Can You Feel The Love Tonight" from The Lion King, and "You've Got A Friend In Me" from Toy Story.
Also coming is a 3-inch vinyls blind box series with singles from A Charlie Brown Christmas. The blind box series comes in an outer box that reproduces the original album art and includes one of four songs. "Christmas Time Is Here," "Hark the Herald Angels Sing," "Linus and Lucy," and "Skating," are all included. Each track comes with a pull-out poster.
Finally, the Steven Universe The Movie soundtrack will be available in the 3-inch vinyl format. The soundtrack features collaborations from artists like Chance The Rapper, Estelle, Uzo Aduba, Gallant, and more.
Obviously, Record Store Day is pushing the mini-turntable as a great stocking stuffer for young music fans. This collection of music spans several generations, though some of the Disney song choices are odd. What kid wants to listen to "Can You Feel The Love Tonight" over "Hakuna Matata"? No one, that's who.
Each of these releases will be available at participating record stores on November 29. You can also pick up an RSD3 mini-turntable if you haven't gotten one just yet.
Never heard of the format? You must not be a White Stripes fan.