A report from NPR and Edison Research shows Americans are listening to more spoken word audio content.
The report defines spoken word audio as podcasts, news, sports, talk radio, and audiobooks. That category of audio listening has increased by 20% since 2014. Time listening to music has decreased by 5% over the same period.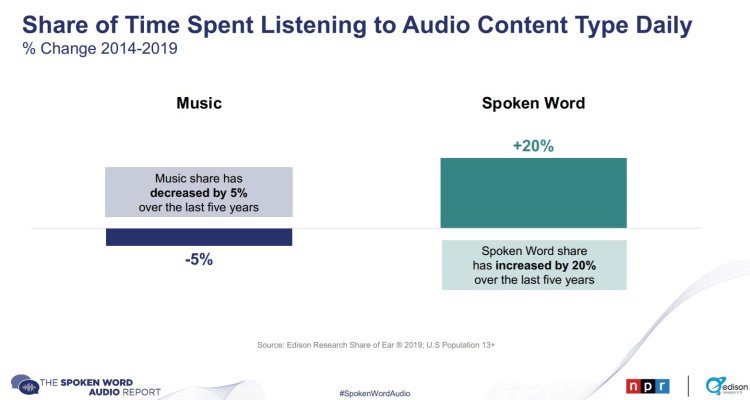 The report attributes the shift in listening habits to users being more engaged with their mobile devices. 22% of spoken word listening is done via mobile in 2019 ⁠— versus only 11% in 2014. The rise in spoken word content can also be attributed to the enormous podcast boom.
Several companies are now heavily invested in providing exclusive spoken word content.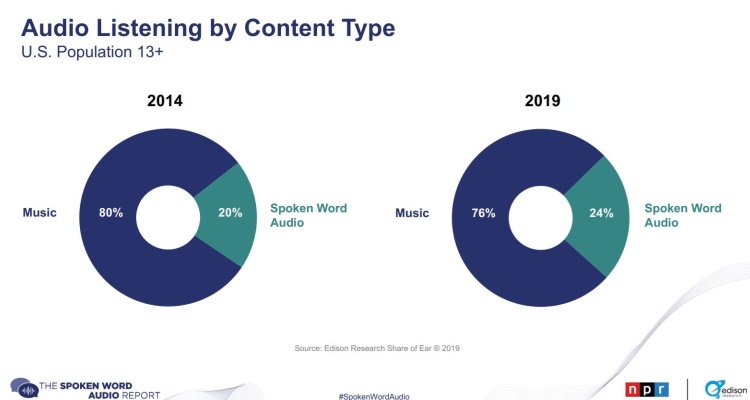 Streaming companies like Apple, Spotify, and SiriusXM are invested heavily in podcast content. SiriusXM more so than the others ⁠— they recently rolled out podcast versions  of popular shows on Pandora. They've also inked deals for exclusive podcast content featuring properties like Marvel.
Other findings from the report include:
121 million Americans listen to spoken word content every day
 Americans engage with spoken word content at least one hour per day
16 million more people listen to spoken word audio in 2019 than five years ago

The 13-34 age bracket now 

spends 19% of their audio time

 with spoken word content

62% of spoken word listeners are also AM/FM listeners

51% of the U.S. population have listened to a podcast

Podcast daily listener numbers have 

doubled in the past five years

 50% of the U.S. population have listened to an audiobook
43% of the U.S. population listens to spoken word content daily
53% of users prefer listening at home, 35% of users prefer listening in the car
The report surveyed 3,013 online and in-person people ages 18 and up — respondents to the survey qualified if they listened to spoken word content at least once a month. Edison Research additionally contributed with survey data from 4,000 respondents age 13 and up from 2014 and on.
You can view the full Spoken Word Audio Report here.