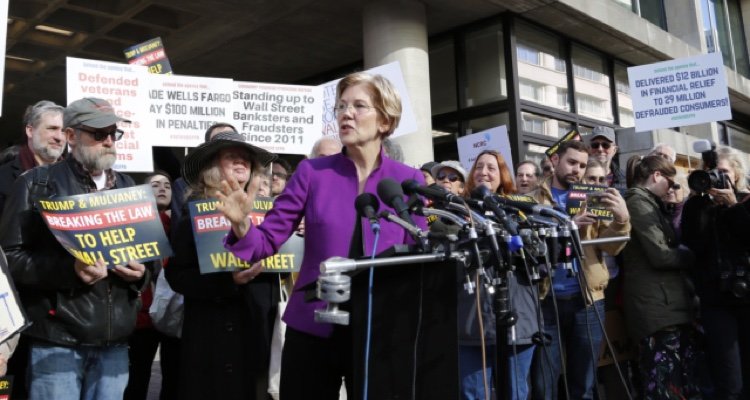 Taylor Swift's battle against Scott Borchetta, Scooter Braun, and Big Machine is now drawing support from Elizabeth Warren, Irving Azoff, and other powerful corners.
That includes the Music Artists Coalition, a musician advocacy group recently founded by Irving Azoff, Don Henley, Anderson .Paak, Meghan Trainor and Dave Matthews, among others. The group is now firmly backing Taylor Swift in her dispute with Big Machine Label Group.
Elizabeth Warren has also defended Swift while criticizing private equity giant Carlyle Group, which now owns Swift's treasured copyrights.
For those just tuning in, Taylor Swift's dispute with former label Big Machine focuses on her right to use and perform her old classics. According to Swift, Big Machine, now owned by private equity group Carlyle Group, is preventing Swift from publicly performing her songs on the upcoming American Music Awards and has refused to license them to Netflix for an upcoming biopic.
The move to block those performances would be 'unprecedented,' according to the Music Artists Coalition, which is now firmly standing by Taylor Swift. Here's their official statement on the matter.
"The Music Artists Coalition supports the rights of all artists to control their music.  Taylor Swift should be allowed to perform her songs where she wants and when she wants. And she should be allowed to use her music to tell her story through her documentary.  For a label to take positions contrary to that would be unprecedented. We applaud Taylor for reminding all artists to be aware of their rights and to stand up for themselves."  
Swift's problems started with a $300 million estimated buyout of Big Machine Label Group.
The deal, coordinated by super-manager Scooter Braun and the backed by the Carlyle Group, stirred outrage by Swift, who blasted both Big Machine topper Scott Borchetta and Scooter Braun. Both were attacked for secretly orchestrating the deal, while keeping Swift in the dark.
In that soup, Elizabeth Warren has issued a blistering criticism against private equity buyouts. "Unfortunately, @TaylorSwift13 is one of many whose work has been threatened by a private equity firm," Warren declared on Twitter over the weekend.
"They're gobbling up more and more of our economy, costing jobs and crushing entire industries. It's time to rein in private equity firms—and I've got a plan for that."