As smart speakers gain popularity, more Americans are turning an eye towards their privacy. A new report estimates over half of Americans are concerned about smart speaker data privacy.
Pew Research Center conducted a study of U.S. adults to determine American attitudes towards smart speakers. The result reveals that over half of Americans are concerned about data privacy. Unsurprisingly, those most concerned are in the younger demographic.
The study found that one-quarter of U.S. adults say they have a smart speaker in their home. Adults younger than 50 are more likely to have a smart speaker than those 50 and older.
There's also a stark divide in who owns a smart speaker. 34% of people with an income of $75,000 or more have smart speakers. Only 15% of people who make $30,000 or less during a year own one of the devices.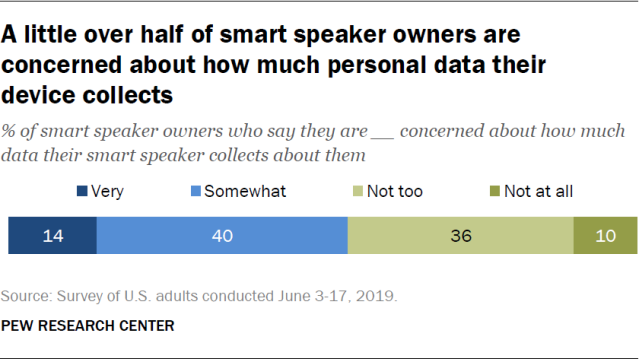 54% of respondents said they were very or somewhat worried about smart speaker data privacy. As these devices become more prevalent in American homes, these questions will persist.
Recent revelations that Google has access to health data and their plans to buy Fitbit have users leaving in droves. A recent smart speaker growth report showed Google as the only company with negative growth in market share this last quarter. As smart speakers become more ubiquitous in our lives, data privacy concerns will continue to rise.
58% of respondents say they do not want a smart speaker to take their interests into account. The data harvesting required to teach algorithms about ourselves is too revealing for huge tech companies. 42% said they were okay with more personalized recommendations ⁠— even if it meant more data collection.
Less than half of Americans felt it is unacceptable for smart speaker makers to share audio recordings with law enforcement. That's quickly become a thing as Amazon has been forced to turn over audio in several murder cases.