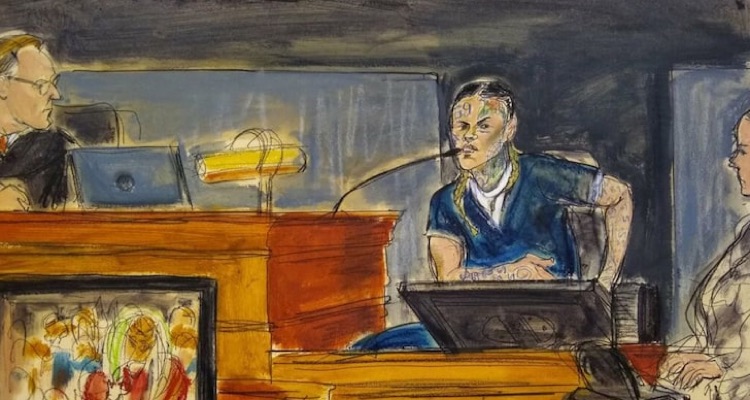 Despite heavy cooperation with federal authorities, Tekashi 6ix9ine is still going to prison on a raft of criminal charges.
Tekashi 6ix9ine has been handed a 24-month prison term for a range of criminal charges, including federal racketeering, narcotics, firearms, and extreme violence counts. Normally, those charges would have merited a prison stay exceeding 50 years, though Tekashi's willingness to rat on several Nine Trey Gangsta Bloods gang members and collaborators prompted the extremely reduced sentence.
Already, 6ix9ine — whose real name is Daniel Hernandez — had been imprisoned for roughly one year while testifying, working with federal investigators, and awaiting sentencing.
Federal prosecutors with the U.S. Department of Justice petitioned for Tekashi 6ix9ine to receive a dramatically reduced sentence given his cooperation.  Accordingly, a U.S. District Court Judge Paul Engelmayer issued the lenient, 24-month sentence this morning.
Ahead of the sentencing, 6ix9ine apologized to Engelmayer for his crimes.  "I now know that I am remorseful for what happened because I was blessed with the gift of an opportunity that most people dream of but I squandered it by getting involved with the wrong people and misrepresenting myself when I should have been true to myself and my fans," the rapper wrote.
Despite widespread indignation and threats related to his wide-scale 'snitching,' Hernandez initially declined to enter the witness protection program. But that could change after Hernandez finishes his two-year stint, thanks to multiple threats on his life. Hernandez is also a target on the inside, though authorities are expected to protect their star witness while in prison.
If Tekashi 6ix9ine is able to stay alive — either inside prison or after his term finishes — a lucrative contract awaits. In the midst of Tekashi's trial and an onslaught of snitch allegations, the rapper inked a $10 million deal with label 10K Projects. But that deal will be risky to fulfill, and nearly impossible if he opts into the witness protection program.
It all depends on whether 6ix9ine stays in the line of fire, or heads off to an undisclosed location in Anywhere, USA.