French Montana has now confirmed that a recent song of his has been rising on the charts because of fake Spotify streams. But he denies any involvement in the scam.
A Twitter thread initially alleged that French Montana's song, "Writing on the Wall," was trending because of fake Spotify streams. The song is also trending on TikTok, but streams are only rising on Spotify.
The thread highlights the difference between Spotify and Apple Music streams. But it goes a step deeper by examining tweets mentioning French Montana. A substantial number of tweets belong to people who say their Spotify accounts were hacked to play the song. The hackers even changed settings to unblock Cardi B to play the song, since she's featured on the track.
The tweets started up around December 18-25; the song started trending on Spotify on December 22.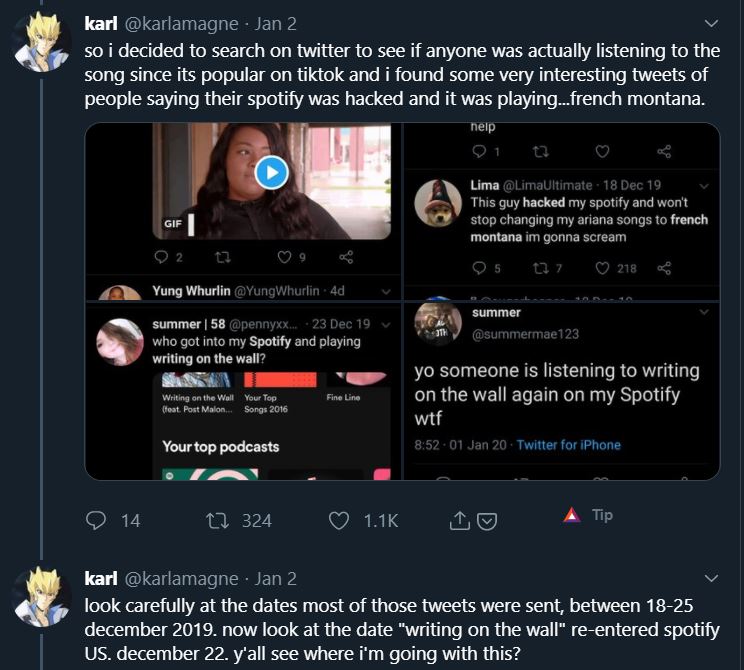 The thread alleges that French Montana's label is buying fake Spotify streams to ride TikTok popularity. Montana is currently inked to Epic Records, part of Sony Music Entertainment.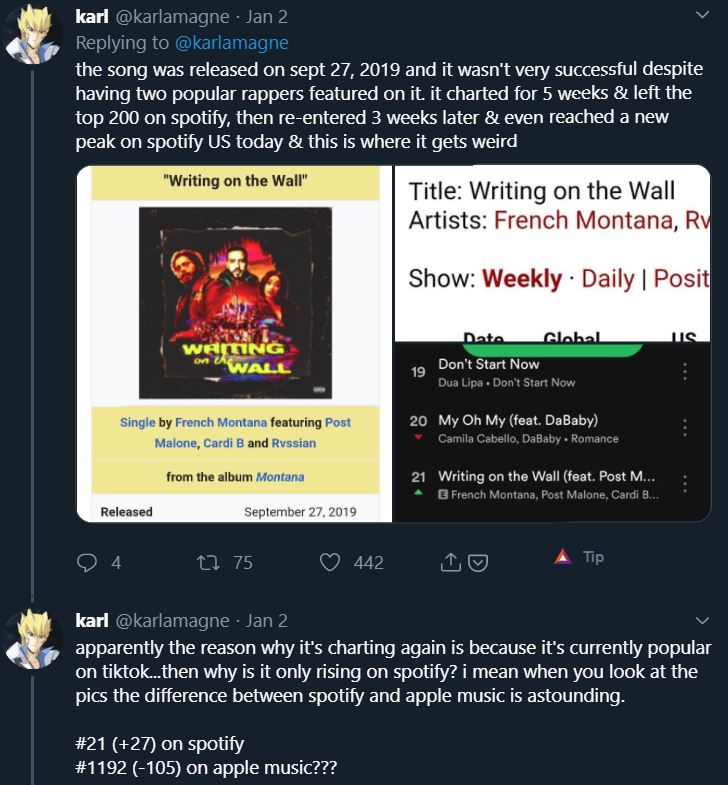 "Also, don't forget to change your Spotify password or block French Montana and check your recently played songs. You never know when they can hack into your account," the thread advises.
"Writing on the Wall" sits at #1192 on Apple Music and #21 on Spotify. 50 Cent quickly jumped on the controversy to continue his beef with the rapper. But fans say 50 Cent bought and paid for the account hacking to continue his beef.
French Montana himself quickly jumped on the claims — and confirmed the fake streams in the process.
"Yeah, you sensitive dinosaur. I got all under your skin. Every post on your page is about me. When that hate don't work, they start telling lies, baby. Go keep buying my streams and talking 'bout faking streams. I checked on it. They all coming from New York. I did my homework. Damn, you mad."
This controversy isn't the first time 50 Cent and French Montana have had beef. Back in 2012, 50 Cent blasted the rapper as being out of his league. "I read your little interview; what the fuck is you high," he tweeted.
More recently, 50 Cent renamed French Montana as 'Wrench Montana' after discovering that he had purchased a used, 2012 Bugatti. He even photoshopped a picture of French Montana with a wrench, positioned underneath the used vehicle. Used or not, Montana noted that the vehicle still carried a price tag of nearly $2 million.