Jennifer Lopez and Shakira entertained with a stellar halftime show at Super Bowl LIV, and undoubtedly, the hit tracks they performed are stuck in more than a few viewers' heads.
To help these new fans enjoy the music of Shakira and J.Lo, here are the songs they sang during intermission.  
The halftime performance opened with a quick-moving rendition of Shakira's "Empire," complete with world-class dancing from a well-coordinated team (who were dressed in matching red dresses). 
Next, Shakira got some assistance on the mic as she performed "Chantaje" with a new group of dancers. 
Additional dancers, fireworks, a color-changing stage, and a bit of crowd surfing followed as Shakira sang her famous "Hips Don't Lie." 
Then J-Lo, clad in all black, took the stage with new dancers and jumped right into "Jenny from the Block." The dancers and special effects picked up the pace as this track was replaced with "Ain't It Funny."
More dancers yet, as well as a center-stage pole, dazzled the eyes as J.Lo moved to "Waiting for Tonight." J.Lo showcased her balance by standing on the shoulders of her dancers, and J Balvin subsequently gave her a hand with "Mi Gente." 
After that, J.Lo, having changed outfits to match the lights, danced to "On the Floor."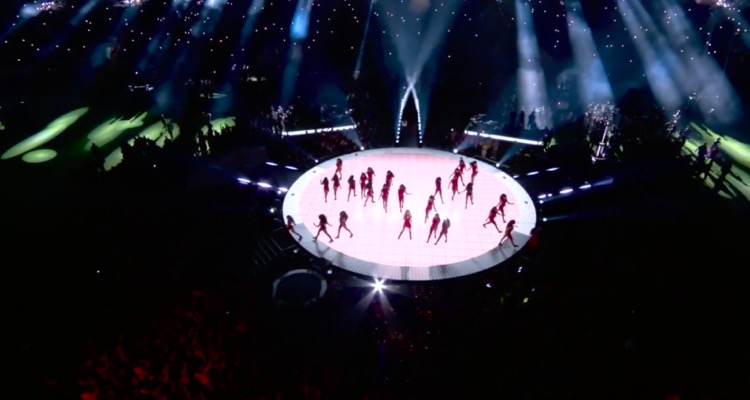 Shakira (also in new clothing) took the drums, and J.Lo continued on vocals, as a number of talented young dancers and singers helped with "Let's Get Loud." 
"Waka Waka" came next, and J.Lo and Shakira closed the show with a piece of J.Lo's "Let's Get Loud," before fireworks erupted over the aptly named Hard Rock Stadium. 
You can check out the full halftime performance here.