Ticketmaster has issued a stern warning to anyone who's considering scalping tickets for Pearl Jam's upcoming Gigaton Tour. 
Those attempting to purchase Pearl Jam tickets through Ticketmaster will be greeted with a message indicating that Gigaton Tour tickets are "mobile only" and "non-transferable." To be seated together, fans must buy their tickets simultaneously, through a single mobile device; the primary purchaser must then check in alongside his or her guests.  Ticketmaster has been designated as the sole seller — and reseller — of Pearl Jam tickets.
Also, according to the Ticketmaster message, any fan who buys a ticket but is unable to attend will be able to sell only via the "Fan-to-Fan Face Value Ticket Exchange," which is slated to go live on Tuesday, February 15th.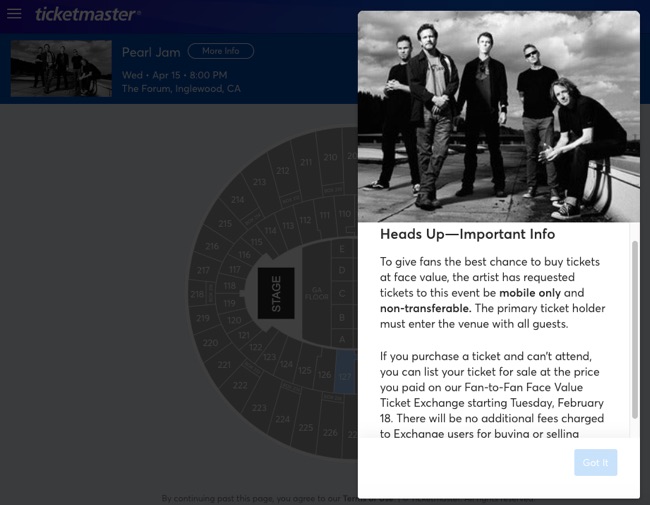 Despite the warning and the seemingly airtight scalping-prevention measures, a number of secondhand Pearl Jam tickets are currently listed for sale on third-party ticket marketplaces. 
Short of coordinating a transaction on the Fan-to-Fan Exchange and arranging for an additional payment after the fact, it's unclear how resellers could possibly deliver the advertised tickets to buyers—making fraud a serious concern. 
Pearl Jam formerly clashed with Ticketmaster over what they considered to be unfair and monopolistic business practices. Pearl Jam went as far as booking tour stops exclusively in non-Ticketmaster venues and testifying against the company in court. 
Evidently, Ticketmaster's current policy of giving artists a say in how their tickets are sold—by discouraging scalping, for instance—has made a positive impression on the Seattle band. All of their Gigaton Tour concerts will be held at Ticketmaster/Live Nation venues. 
The 30-show Gigaton Tour (the album of the same name is set to drop on March 27th) will begin in Canada on March 18th. 10 U.S. shows will follow, and the tour's final leg will take place in Europe between June and July.