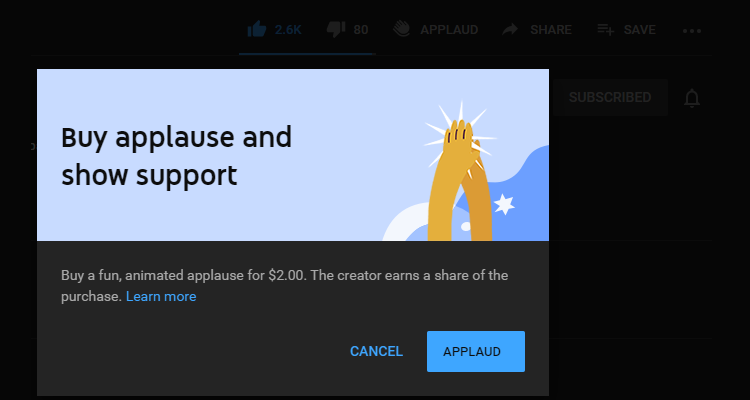 YouTube appears to be testing a way for desktop viewers to reward content creators with 'Applause.'
Users can buy the Applause feature on specific creators' videos to show support for that YouTube channel. The feature is a very similar concept to the micro-transactions available to gamers on Twitch.
Twitch viewers can purchase 'bits' for real money. Those bits can then be used in a variety of ways. Creator channels can offer custom emoji, special channel statuses, and more for bits. Twitch pays creators one cent for every bit they earn from their viewers in a month.
The YouTube Applause feature seems to be less transparent than Twitch. Though the feature is in testing, the official support page doesn't detail how much creators actually get. The lack of transparency is an issue when YouTube already faces low artist compensation rates.
The feature is obviously designed to help pick up the low-royalty payment slack by offering digital tipping. But YouTube isn't willing to disclose how much it takes off the top for providing the service.
For now, the viewer Applause feature appears limited to desktop users in certain countries.
Australia, Brazil, India, Japan, Korea, Mexico, New Zealand, and the USA are on the beta test shortlist. Users may see an 'Applaud' button under participating content creator videos. Clicking the button offers a pop-up to see how much an applause costs. The U.S. pop-up appears to offer a standard $2 donation option.
Viewers are not limited on the number of times they can purchase Applause on a single video. YouTube also guarantees that personal details are not shared with the creator and are not made public. That seems rife for abuse, right?
Purchase limits for the YouTube Applause feature are in place to prevent abuse. Only $500 USD per day or $2,000 USD per week can be spent on Super Chats, Super Stickers, and Applause. These payments are effectively tips to the creator (that YouTube skims) and cannot be refunded.