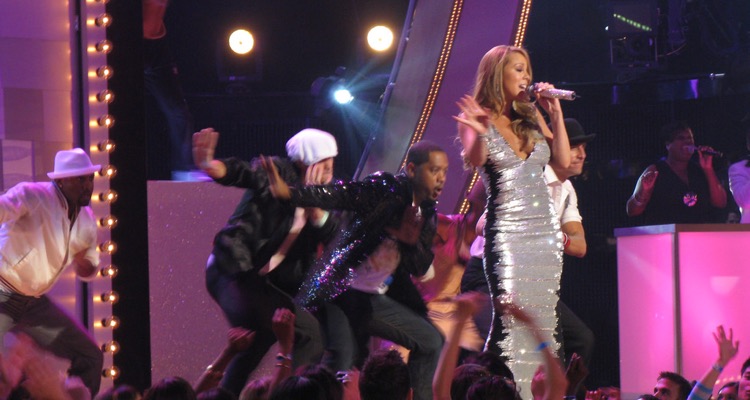 Mariah Carey has moved her heavyweight catalog to performance rights organization ASCAP. The superstar was previously with SESAC for more than five years.
Update: Earlier, we incorrectly noted that Carey had left BMI.  She was previously with SESAC.
ASCAP trumpeted the big news early this morning. ASCAP CEO Elizabeth Matthews indicated that she and her team are "honored" to have a "legend" like Carey join the organization. Carey was previously signed with SESAC and at this time, it's unclear what prompted her to depart and sign with ASCAP.
Carey first joined SESAC back in 2014, a serious coup at the time.
One possibility is that ASCAP simply offered an extremely lucrative offer.  PROs routinely sweeten deals with bigger performance rights payouts, and upfront bonuses may have also been tendered.
Founded in 1914, ASCAP has long been a major player in the performing-rights market. Today, the New York-based group collects licensing fees on behalf of over 670,000 music professionals, including owed payments from radio and streaming, among other sources. That makes it one of the two major PROs, with the other heavyweight being BMI.  SESAC ranks a distant third.
In June of 2019, ASCAP made headlines when the Department of Justice opened a formal inquiry into the 1941 BMI/ASCAP consent decrees.
These decrees, which were instituted to curb below-board, anticompetitive licensing habits employed by the organizations, impact each element of the groups' business practices, including who they license their artists' tracks to and the (relative) cost at which tracks are made available.
PRO and music publishing lobbyists have long sought to overturn the decrees outright, but to this point, they remain in place and have been revised just twice: once in 1994, to BMI's benefit, and once in 2001, to provide a similar break for ASCAP.  SESAC, as well as upstart PRO Global Music Rights, or GMR, have remained outside the decrees.
The Department of Justice's inquiry hasn't yet concluded, though there's a possibility that the decrees will be significantly relaxed or tossed outright.
Mariah Carey burst onto the music scene in 1990, with a self-titled album.
She has since gone on to become one of the bestselling artists of all time (second only to Barbra Streisand in U.S. sales). The Long Island native's newest album, Caution, was released in 2018, and the corresponding world tour drew to a close on August 31st, 2019.
Additionally, Carey rereleased her classic Merry Christmas album during the most recent holiday season, to commemorate its 25th anniversary.