The rap group Bone Thugs-n-Harmony has officially changed its name to "Boneless" Thugs-n-Harmony—not as an early April Fools' joke or as a result of a lost bet, but because of a high-priced branding deal with Buffalo Wild Wings.
Boneless Thugs-n-Harmony announced the switch by uploading a short clip to Facebook. Additionally, Buffalo Wild Wings posted a humorous two-minute-long clip to YouTube, which features members of the group, including Krayzie "Boneless," Flesh and "Boneless," and Wish "Boneless," describing how a newfound love of boneless wings led to the change.
In a promotional video tied to the branding deal, Layzie Bone refuses to accept the new name, despite the pleas and persuasion attempts of other group members. At the video's close, the narrator asks viewers whether the name change will stick, and Layzie, giving the finger to a poster commemorating Boneless Thugs and a "No Bones" tour, says, "I'm not changing s—!"
Exactly how long the name change will last is unclear. A rep from Buffalo Wild Wings told Digital Music News that the switch will remain effective 'until further notice.' And a lot of name-retreading is happening right now. "The group is in the process of updating their social handles in the coming days, signifying they will be known as the Boneless Thugs-N-Harmony until further notice," the rep emailed.
The switch obviously involved a gigantic paycheck for the Cleveland rap group. But Buffalo Wild Wings CMO Seth Freeman joked that it's all about the wings. "These boneless wings are so good, what if they made Bone Thugs-N-Harmony have an identity crisis?" Freeman mused.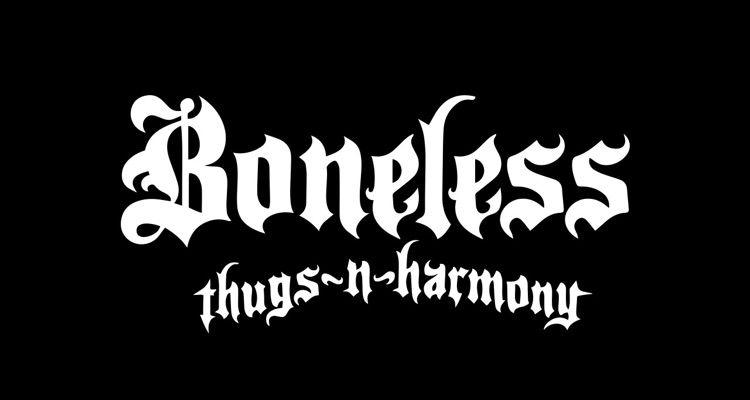 The campaign was conceived by The Martin Agency, a Virginia-based ad company that's responsible for creating GEICO's gecko and the "Virginia is for Lovers" slogan, among other well-known advertising elements.
Boneless Thugs-n-Harmony merchandise will be given away both online and during the group's ongoing tour.
Though a partnership of this size and extent likely required weeks to coordinate, it may have been sped up to turn the page on the controversy created by a recent Buffalo Wild Wings tweet, which insinuated that the Houston Astros' punishment for cheating wasn't severe enough. While many baseball fans voiced their support for the message, Houston Astros diehards, predictably, did not.
Having formed in 1991, the Cleveland-based Bone Thugs-n-Harmony is in the process of recording a new album; Krayzie and Bizzy Bone released an album under the Bong Thugs name in 2017, including a single, "Coming Home," that features Stephen Marley, Bob Marley's son. Moreover, each Bone Thugs member has pursued a solo career.
However, all five of the group's original members are involved in the upcoming album's production. An expected release date hasn't yet been provided.