Spotify is testing a new compact playlist featuring time-specific recommendations.
The new Spotify playlist recommendations area now displays six lists side-by-side. These recommendations are headed under a greeting that is contextually based on the time of day. The playlist recommendations take into account your regular listening habits to create daily mixes.
The most significant change here is that Spotify is getting more spots to show users playlists they may like.
Customized playlists and radio stations are one of the biggest draws to Spotify for most users. Spotify's algorithms learn what you like over time and recommend new music peppered in mixed playlists.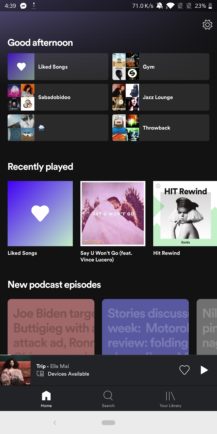 The old playlist recommendations interface only showed seven to nine playlists and scrolled horizontally. The new section allows up to twelve playlists, but the feature may need some tweaking. In test screenshots obtained by Android Police, some playlists appear twice in a row.
For now, it appears this is a server-side change for Spotify users. Even those on the latest alpha release for Spotify don't see it, while others do. Spotify could be testing how the new compact playlist interface is received among its test audience. If the feature does well, it could see a broader roll-out among users.
Some users hate the change, though. Now the playlists don't show a preview of which artists are in the playlist without opening it. Other users report that the contextual greeting sometimes gets stuck at the wrong time of day.
Either way, it looks like Spotify is moving towards making its app more information-dense. Pushing curated playlists and exclusive podcasts is how the company hopes to attract new listeners. Spotify is facing stiff competition from Apple Music, hoping to overtake the title of the biggest music streaming service globally.
Exclusive content and popular playlists like Rap Caviar may give Spotify an edge – but Apple Music growth continues to edge closer.