According to a detailed report shared this (Tuesday) afternoon by the Recording Industry Association of America (RIAA), 2019 brought a substantial uptick in US-based music industry revenue. Streaming catapulted the double-digit gains; the format is now larger than the entire US-based recorded music market in 2017.
The annual analysis of recorded music's total earnings indicated that U.S. recorded music revenue grew by an impressive 13 percent, from $9.8 billion in 2018 to $11.1 billion in 2019. Significantly, 2019 was the fourth consecutive year to feature double-digit revenue growth.
Even more staggeringly, year-2019 streaming figures are eclipsing entire recorded industry totals from previous years, including as recently as 2017.
Other portions of the RIAA report suggest that the ongoing trend of industry development and bolstered profits will continue into the foreseeable future.
Here are some highlights of the annual review.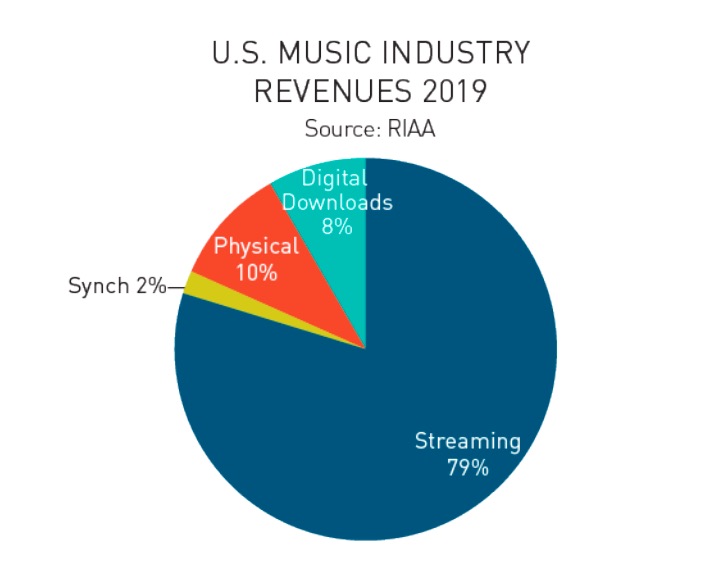 Unsurprisingly, Streaming Produced the Vast Majority of Recorded Music Revenue
2019's streaming revenue jumped by nearly a fifth from 2018's level, to 79.5 percent of all U.S. recorded music earnings. The figure includes streaming profits from each leading platform and accounts for both premium and paid versions.
Perhaps the most telling component of streaming's contribution to music earnings is that 2019's streaming market was larger than the entire recorded music market in 2017. With growth this substantial (and with streaming platforms reporting extremely solid subscriber numbers), it appears that streaming is set to comprise an even larger share of industry profits in the coming years.
Physical sales accounted for 10 percent of 2019's recorded music revenue, while digital downloads came in at eight percent, and the quickly growing sync sphere delivered two percent.
Also worth noting is that paid streaming services brought vastly larger profits than both ad-supported on-demand music and digital radio services. At $6.8 billion, paid streaming revenue was 25 percent greater than in 2018 and accounted for 77 percent of all 2019 streaming earnings; digital radio came in second, streaming-wise, and ad-supported on-demand audio and video media followed in a close third place.
Lastly, enhanced streaming earnings were naturally accompanied by a major boost in the total number of paid subscribers. 60.4 million Americans paid for music streaming in 2019, up approximately 29 percent from 49.6 million in 2018.
In 2015, less than 11 million Americans subscribed to premium music services, and though the figure has grown tremendously each year, the 29 percent hike from 2018 to 2019 was the single largest year-over-year increase yet in terms of absolute subscriber gains.

Fast-Paced Streaming Growth Lessened Digital Downloads
2019's total digital downloads dipped from 2018's level, presumably because of the well-documented rise of paid streaming services. As streaming figures have increased each year since 2015, digital downloads have fallen each year since 2015.
However, music fans still spent nearly $900 million to own digital versions of their favorite songs in 2019. Incidentally, 2019 was the first year since 2006 to see digital-download earnings fall below one billion dollars.
Download revenue was essentially split between single-track and full-album purchases; ringtones and other download purchases comprised a very minor portion of 2019 earnings.
Finally, digital and customized radio revenue fell four percent from 2018, to $1.16 billion.
With Vinyl Still Growing, Physical Revenue Held Strong
In 2019, earnings from physical music and related products essentially stayed the same as in 2018, decreasing by .6 percent overall.
Notably, though, CD revenue declined by 12 percent from 2018, to $615 million; vinyl revenue increased by 19 percent, to $504 million, and continued the 14-year growth trend. Moreover, 2019's total represents the largest amount earned by vinyl since 1988.
It seems likely that vinyl will grow and CDs will falter in 2020 and beyond, though their relative performances are uncertain and will determine the trajectory of music's physical earnings.
Here's the complete RIAA breakdown for 2019.