Hello, South Florida. Spotify has finalized its lease on a 20,000 square foot office space in Miami's ultra-desirable Wynwood enclave.
Little more than a week after Spotify's South Korea expansion plans were made public, the streaming giant has revealed that it intends to enter South Florida in a big way.  According to details (and lots of photos) tipped to Digital Music News today, the Stockholm-based company has leased a 20,000 square-foot office space in Miami's thriving Wynwood Arts District — the same neighborhood that several tech and entertainment companies have reportedly been considering for their own Florida headquarters.
The massive building is part of The Oasis, a multi-use campus that's designed to accommodate both retail and professional tenants. Having started construction last year, The Oasis is scheduled to open in late 2020.
And when The Oasis does debut, visitors and employees alike will be able to seamlessly transition between the indoors and Miami's gorgeous weather as they choose from a number of restaurants, a full-service bar, and much more. A 35,000 square-foot concourse area will boast a stage (complete with daily entertainment), ample outdoor seating options, and lighting that enables all to relax — or work — late into the famed Florida nights.
Based upon the vivid colors and ample foliage showcased in the featured renderings, The Oasis resembles Google's campuses more than it does a traditional office-retail setting.  To be sure, Google counts itself among the aforementioned brands that have contemplated (and are contemplating) entering the Wynwood Arts District.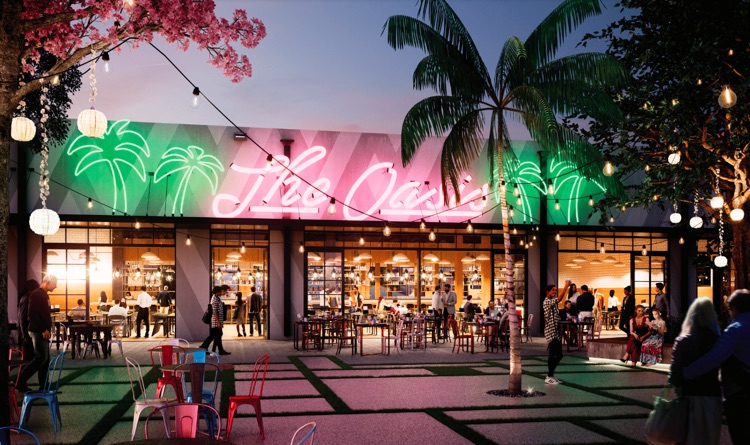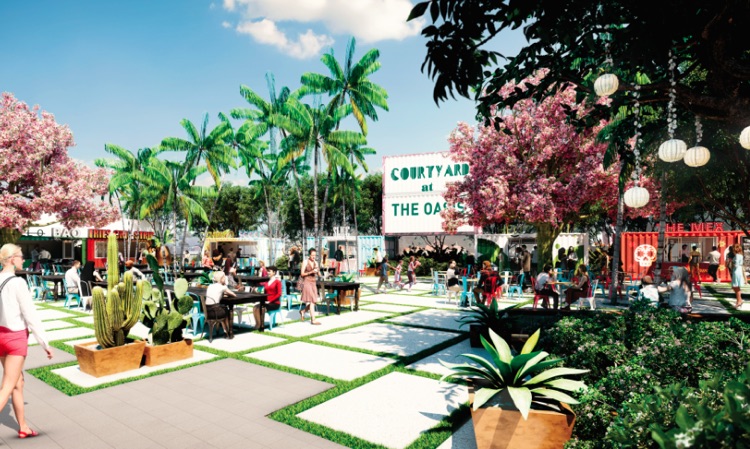 Spotify has long gone above and beyond in terms of securing stellar — and expensive — office space.
The company's luxurious Stockholm offices are reported to cost nearly $1.4 million per month. And while that figure's hardly anything to scoff at, it pales in comparison to the $566 million, 17-year lease (at a rate of approximately $2.66 million per month) that the brand inked for its 14-floor World Trade Center offices.
Spotify's Wynwood office space will be located between 23rd and 24th Streets, on North Miami Avenue. Updates on The Oasis's construction are expected to be delivered throughout the year.