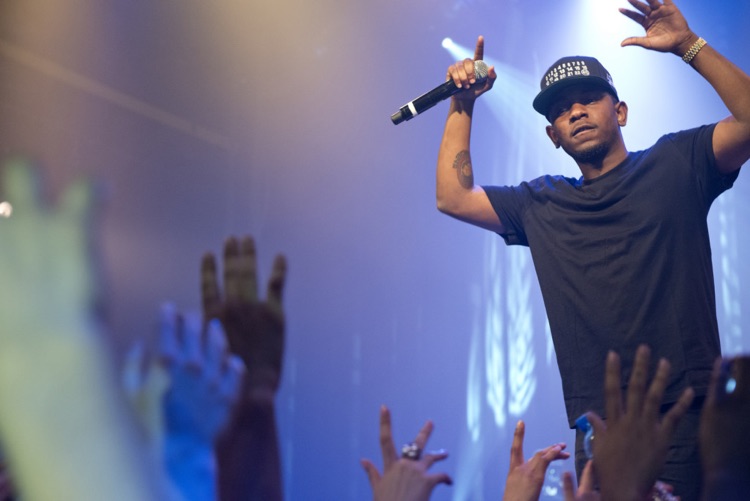 Rapper Kendrick Lamar announced today that he's founded a new company, pgLang. Though the brand's website has gone live and Lamar has set out to promote the business, it's unclear at this time exactly what services it will offer.
The 32-year-old first took to Instagram and Twitter (though not Facebook) to promote the company with a simple logo and web address. A (well-filmed but admittedly vague) 30-second-long video followed in a subsequent message, and finally, Kendrick Lamar revealed that 5,000 copies of The pgLang Times had been placed throughout Los Angeles, seemingly as part of a promotion with The Los Angeles Times, which was tagged in the message and shown in the accompanying image.
Frequent Kendrick Lamar collaborator Dave Free has co-founded pgLang, and he also posted social media messages about the company (featuring the same video and image that Lamar published).
Lamar's Instagram and Twitter bios have been updated to read: "Founder @pg.lang an at service company." Additionally, many of Lamar's prior tweets and all his prior Instagram posts have been deleted, thereby making pgLang the focal point of the profiles.
The text on pgLang.com's landing page is quickly blocked by black lines, which can only be kept at bay with a quick series of clicks.
Even when mostly revealed, the message doesn't provide any definitive answers. However, it does indicate that pgLang is "multilingual" in the sense that it will specialize in all manner of media, including writing, film, television, music, and podcasts.
Scrolling down, users will happen upon a four-minute-long "visual mission statement." Without disclosing any real spoilers, the carefully shot footage includes a discussion of the sun and references to the past, present, and future, all while not providing much concrete information about pgLang itself. Lamar, Black-ish actress Yara Shahidi, singer Jorja Smith, and rapper Baby Keem act in the video.
At the bottom of the website's initial (and only) page, users have the option to purchase a pgLang t-shirt for $40, a long-sleeve shirt for $60, and a hoodie for $100. These apparel options will be made in Los Angeles and are expected to ship in about three weeks.
Stay tuned for additional pgLang details.