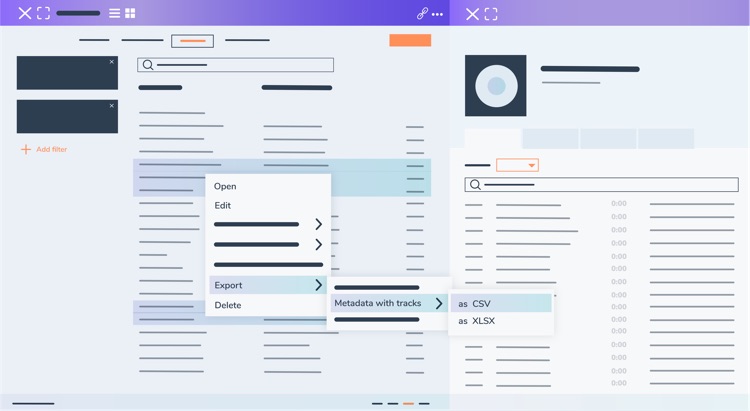 Is managing your catalog taking up too much of your time? Is keeping track of your data more of a brain teaser than a task? Reprtoir is looking to make music catalog management easy.
The following article comes from Reprtoir, a proud partner of DMN.
More often than not, managing catalogs is a complex task for music industry professionals. After years of experience managing catalogs, the team behind Reprtoir targeted the pain points that had to be dealt with. Navigating between tons of metadata, complex chains of rights, loads of rights holders, and royalty splits is tricky at the very least. And when not properly handled, this leads to wasting time, energy, and ultimately money.
Managing recordings: By and for music producers
Reprtoir is at a crossroads between music and tech, benefiting from a deep knowledge of the profession. Reprtoir is a SaaS (Software as a Service) solution, developed by Rendez-Vous Digital, a licensing company. After too many tracks were manually added to a content management system, and difficulties working the dataset within the same team arose, a solution emerged. Seeing that no other content management system had been imagined, they developed their own solution.
At the basis of Reprtoir is Audio Manager, a business software package designed specifically for record companies to manage their recordings online. The goal is simple: to help you save both time and energy. Importing tracks from streaming services and assisted data migration are here to accomplish this!
Reprtoir was conceptualized to be a workspace, to manage metadata, contributors, rights holders, and royalty splits. Changing catalog management software is easy; having the right platform to turn to is the second step.
A catalog management system
Reprtoir brings a solution by commercializing a content management system specially designed for music metadata: Audio Manager. To better understand why this software was built, you have to take a look at how data management specifically works for the music industry. Track metadata involves – at the very least – details concerning artists, contributors, rights holders, and associated works. Following up on the numerous changes, the evolution of contributions, and rights distribution is a challenge without a proper software solution.
This is why Audio Manager can be called a catalog management system. It is above all a business software solution, allowing record companies and publishers to manage tracks, royalty splits, compile lists to improve catalog overview, and even link recordings to their contributors to ease royalty management.
Audio Manager was designed to follow every bit of metadata in your catalog. We don't need to tell you that data is the core element of the music business; it always has to be verified.
Making data imports accurate and safe
If data accuracy is one of the main elements to keep in mind, for Reprtoir's team, it is the first thing to deal with. If your data is already available on streaming platforms, why start all over again? You can directly import them into your catalog, within a few seconds. Of course, you can still import the data manually yourself and verify every piece of information before modifying your database. This will help you aggregate every bit of information you might need on your tracks and artists, and keep a clear catalog.
We get how long and tedious a migration from your own database to another one can be. For that, Reprtoir is able to migrate any kind of database into its system. The goal is simple: making a clean base to build on. Whether your tracks are already online or you need to add information yourself, everything is made easier for the user. Importing tracks from your catalogs shouldn't take more than a few minutes.
Data accuracy is actually the main concern for record companies and music publishers: the better you know your catalog, the better your business decisions will be!
Going even deeper on your knowledge of your tracks
Looking even further, pitching your own tracks for sync deals always requires a bit of digging into your catalog. By getting more information about the tracks themselves, you'll be able to match them and/or pitch them to the right prospects.
Reprtoir built a data enrichment intelligent extension to Audio Manager: Metadata Collector. After browsing the web, every collected data are automatically verified and integrated. Your catalog is continuously updated, and includes psychoacoustic data and popularity tracking (geographically targeted).
And there you have it: a catalog that will always get smarter! Make the most informed decisions for your artists and manage a fully optimized catalog.
A full workspace for your team, answering problems of data management
Audio Manager is part of a software suite, including Works Manager (allowing you to manage musical works and royalty splits) and Playlists for business (allowing you to send secured playlists to prospects). Each solution comes with a free tier to give every user the opportunity to experience the possibilities Reprtoir has to offer to music business management.
Audio Manager will be integrated with Reprtoir's new distribution tool: Releases Manager. Once a database is clean and well adjusted, the next challenge is being able to share it and distribute tracks. Releases Manager will allow users to deliver their catalog to Believe, The Orchard, and more.
All in all, an external solution allowing record companies and music publishers to work in collaboration can help you save a lot of time. Instead of developing software solutions internally, keeping them up-to-date and managing storage issues, leave it to a dedicated team!