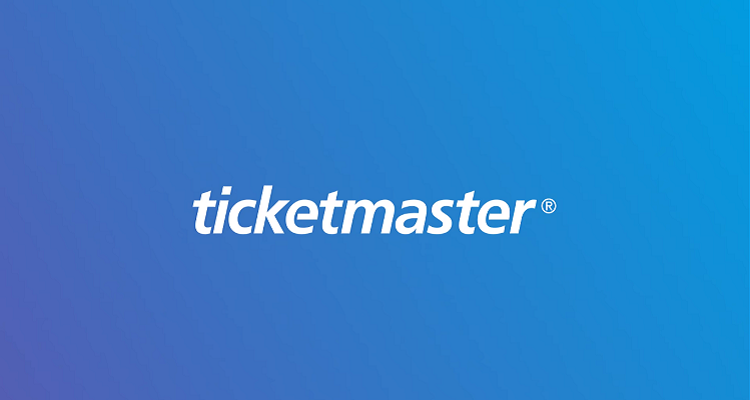 Ticketmaster is facing ample fan scrutiny and criticism after quietly changing its refund policy to exclusively cover canceled events, instead of those that have been postponed or rescheduled. 
It's hardly a secret that the coronavirus (COVID-19) crisis has brought the live-event industry to a screeching halt. Responding both to government mandates and health concerns, promoters have canceled (or delayed) sporting events, concerts, and essentially all other audience-based entertainment functions.
And predictably, a substantial number of would-be attendees are looking to receive refunds for the tickets they bought prior to the pandemic. In responding to this unprecedented cluster of repayment requests, Ticketmaster has quietly changed its refund policy to cover only canceled events — not the many functions that promoters have indefinitely "postponed" or rescheduled to a date/time that some ticketholders cannot make.
Previously, Ticketmaster's refund policy stated: "Refunds are available if your event is postponed, rescheduled, or canceled."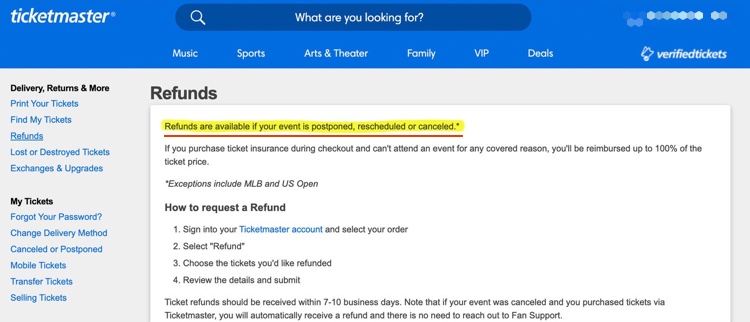 Now, however, the Live Nation company's refund policy simply says: "Refunds are available if your event is canceled."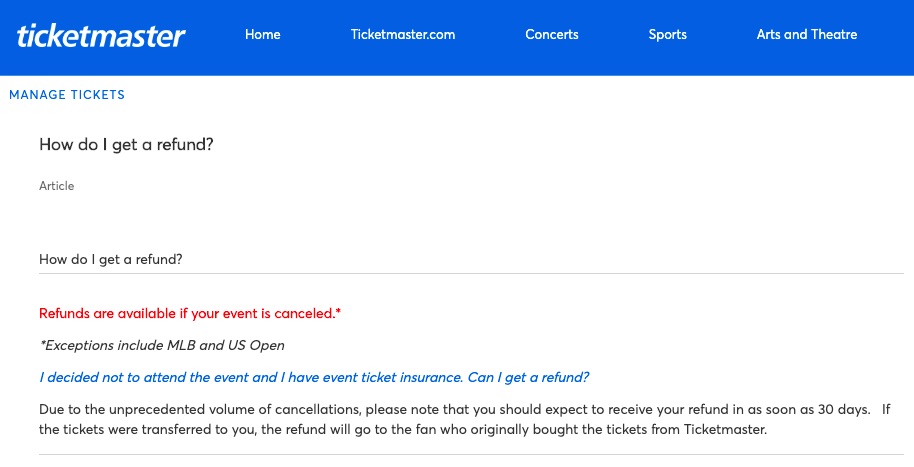 Plus, Ticketmaster's "Coronavirus Impact" webpage quite carefully describes the difference between cancellations and postponements, in addition to the corresponding policies of each.
On social media, fans' frustration with the refund reversal appears to be boiling over.
One agitated Twitter user wrote: "@Ticketmaster won't help me out with my refund…Time to call a lawyer and @bbb_us [the Better Business Bureau]."
Another disgruntled individual asked: "Why is it that when I buy concert tickets you take the money out of my account in a matter of SECONDS, but when shows are being canceled it can take you months to return my money??"
Lastly, a different fan yet tweeted: "All the concerts I bought tickets for have been 'postponed'…How about you just refund us for our purchase? Nobody knows their future right now."
Earlier this week, Digital Music News was the first to report that an angry customer had filed a class-action lawsuit against ticket-resale platform StubHub, over the brand's opting to provide vouchers (instead of cash refunds) for tickets to events canceled because of the coronavirus (COVID-19) pandemic.
In a statement, StubHub noted, "It is currently impossible for us to offer immediate cash refunds to all buyers." It's likely that Ticketmaster is experiencing similar fiscal difficulties, albeit on a much larger scale. (StubHub moves approximately $5 billion in tickets annually, whereas Ticketmaster's yearly sales volume has exceeded $30 billion in the past.)
Stay tuned for additional updates on Ticketmaster's refund policy.