Billboard and Hollywood Reporter parent Valence Media recently made the decision to fire their entire IT staff — or at least a substantial chunk of it — due to the COVID-19 pandemic. The decision quickly backfired. 
The news of the layoffs came from Billboard's website late Tuesday night with a byline "devops." The rogue post announcing the layoffs was quickly deleted. The post's header image featured a character from National Lampoon's Animal House, as well as a quote from the movie.
"In the wake of COVID-19 pandemic, Valence Media has decided to lay off their entire web IT staff. Effective today. The online Billboard Charts are essentially perfect, so IT staff are no longer needed. Fat drunk and stupid is no way to go through life… #SavingABuckAtYourExpense," the post read before the entire article was deleted.
The layoffs went far beyond IT, however. Valence Media announced layoffs on Tuesday as several senior writers and editors were let go. At least eight people from Dick Clark Productions were laid off as well, along with three staffers from MRC. Hollywood Reporter editorial director Matthew Belloni stepped down last week after extreme disagreements with management spilled over.
Billboard quickly deleted the post, but not before it was posted to social media. You can see a screenshot of the post before it was removed below. 
Looks like the executives over at Valence Media didn't quite think this one through. Everyone knows the number one rule of firing the guy with the keys is getting all the copies back.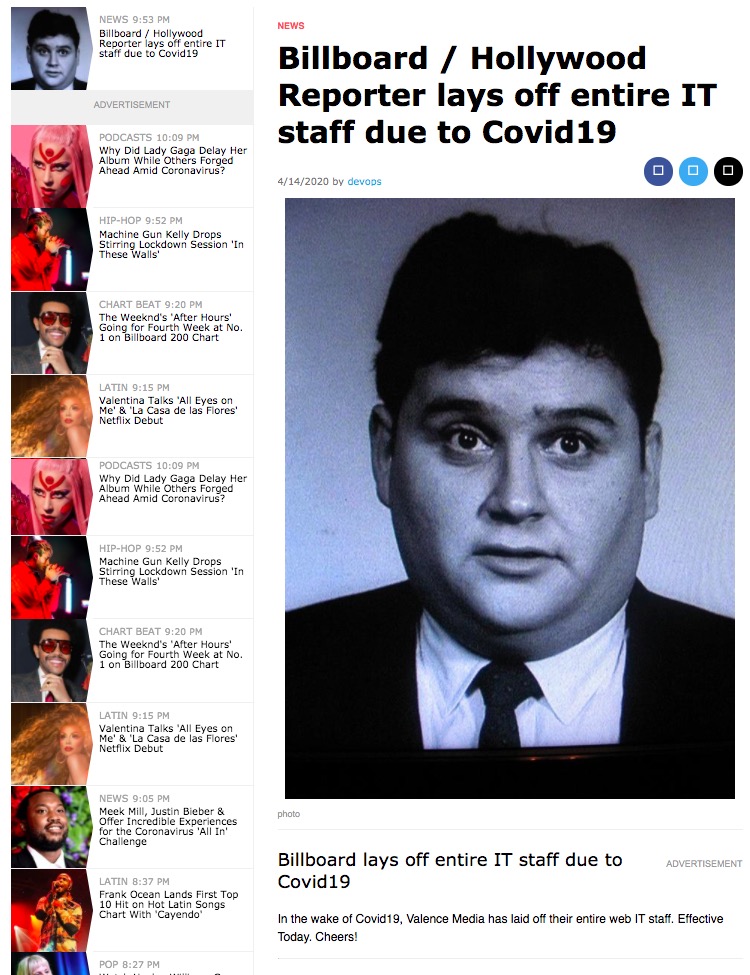 The phrasing of the send-off message also draws some questions, especially from a security-minded person.
Of course, ex-employees saying the servers and systems are "essentially perfect" is sarcasm. But that wording begs blackhat hackers to test just how perfect those servers and systems really are, especially with no staff on hand to fix intrusions.
It's like telling a kid not to eat any "essentially perfect" cookies you set in front of them before leaving the room.  Guess Valence Media is responsible for the crumbs they come back to in this metaphor. Indeed, the article is forever enshrined on the internet as a testament to profit-driven decision making. You can bet these won't be the only IT casualties as the pandemic shutdown continues.