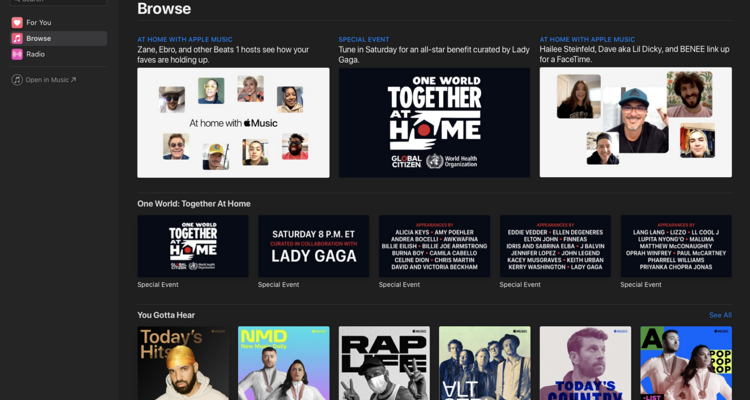 Apple Music is now available in any web browser after launching in beta-form in September.
The new web version of Apple Music requires a $9.99/month subscription to use. It also puts Apple Music on par with Spotify – which began as a website and launched an app. Apple Music took the opposite approach, starting as an app, and launching a website.
The Apple Music app is great for listening on a smartphone or tablet, but not so great for PC users. A web-based version helps Apple Music become an attractive option for desktop users.
The Apple Music web version features the same clean interface of the app.
You'll see a list of your playlists and the For You section, which is personalized. Browse and Radio are available on the left panel. The new interface makes it each to search and stream music from any web browser.
The move to support a web version is in stark contrast to Apple's usual insistence on platform-native applications. Google and Amazon both embrace web versions of their apps, but this is a first for Apple.
As Apple's focus shifts more towards recurring subscriptions, web-based apps may be in the cards for other services. Microsoft makes a pretty penny from its Office365 subscription service, while Google has Google One.
Now, Apple is slowly embracing the web with more of its services. A mobile version of the iCloud website is now live, and a web version of AppleTV now exists, too. Apple can clearly see the value of expanding its services for accessibility.
The Apple Music web interface can be accessed at music.apple.com. It works on both a desktop and a mobile browser. It's an excellent way for prospective customers to browse the catalog when exclusive content becomes more prevalent.
Frankly, it's hard to believe it took Apple this long to realize a web version makes sense.