TikTok added more than 12 million new users in March as most of the U.S. entered lockdown.
The short-form video app continues to grow exponentially, despite its troubles. TikTok paid a massive fine for violating child privacy laws – and it remains under U.S. government investigation. But those points haven't marred the app's growth in the States one bit.
Analytics firm Comscore reports that between January and March, TikTok saw a 48.3% growth in U.S. visitors.
Those figures include desktop visitors and mobile visitors. The TikTok app alone saw a 30.1% increase in unique visitors in the same period, up to 28.8 million U.S. visitors. This pandemic-propelled growth spurt isn't the first for the Chinese-owned social media app.
Shortly after India banned TikTok in its country, the app saw an explosion of new users. The interesting thing about TikTok's growth trend is that the average minutes per visitor (AMV) is rising, too. In October 2019, AMV among TikTok users was 305.9 per app user. In March 2020, AMV has increased up to 476 per app user. That's a 55.6% increase over October 2019.
U.S. Instagram visitors spent just 319 minutes on the app in March – TikTok new users are more engaged. It's not hard to see why Facebook is pivoting its direction and focusing on developing more video features.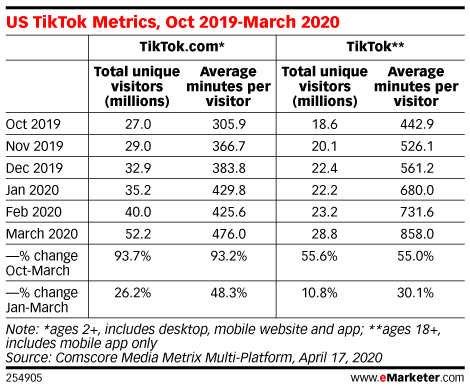 A poll from CivicScience found that TikTok's new user growth comes mainly from the 13-35 demographic.
27% of people in that demographic said they use the app, up from just 19% in January. TikTok benefits from its shareable content going up on other social media sites like Twitter and Instagram. It drives engagement with the platform and helps new users discover the service to view similar content.
TikTok is now expanding its live stream capabilities for creators, actors, musicians, and more to share their talent. As the world leans more on video communication to stay connected, expect TikTok's explosive growth to continue.