You can open it, but will they come? A new poll reveals fewer than 10% of Americans would attend a concert or live event right now.
The Screen Engine/ASI poll, released today, canvassed tens of thousands of Americans on their opinion. Participants were aged 13-64, and for the week ending May 2nd, over half said they were very concerned about coronavirus. That number is up 100% from when the question was first asked on March 7th at the start of the pandemic.
Only 5% of poll respondents said they would attend live sporting events or a concert. An anemic 7% said they would feel comfortable watching a movie in a theater.
Despite the lack of interest in live events, concerts, or theaters, movie interest hasn't declined. Respondents report the amount of movies they've streamed has risen significantly since the lockdown. 52% of poll respondents said they had increased their streaming habits.
So how do people feel about the United States and its effort to re-open? 51% of respondents said they would need to see the necessary precautions at large gatherings. That includes social distancing and masks worn by those in attendance and staff.
"The implication from this is that movie theaters, stadiums, concert halls, and other venues housing large events have a major messaging campaign to launch once they do begin to re-open," Screen Engine says. "The relationship between consumer and business has been experiencing a shift because the internet has given the consumer a voice never before available."
Of respondents to the poll, females were more likely to be concerned about the pandemic and its effects on concert halls and venues.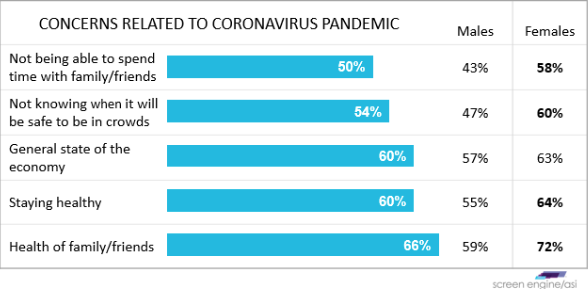 72% of female respondents compared to 59% of males said they worried about the health of family and friends. 60% of females said they worried about not knowing when it will be safe to be in crowds – compared to 47% of male respondents with the same worry.