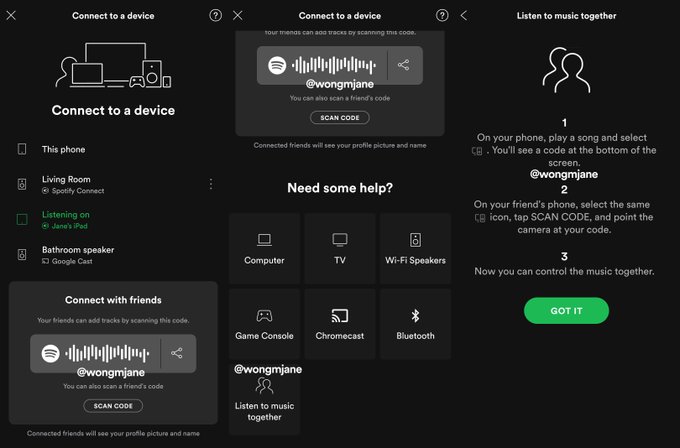 Spotify has officially launched its new 'Group Session' feature for sharing music between Premium users.
The feature functions as a party mode of sorts, allowing users to control what's playing and contribute to the playlist. It's something that YouTube Music already does well with its Chromecast integration. And that feature isn't limited to premium YouTube users, either.
Spotify has been testing Group Session since at least May 2019.
Others reported seeing it in a wider app rollout starting in August 2019. The feature appears to have been in testing, and Spotify decided to launch it for families in quarantine. Spotify says the feature can be used among groups spending lots of time together. While video streaming and gaming are up significantly during the global pandemic – music streaming is down.
Spotify says to use the new feature, a host must tap the 'Connect' menu on their Play screen. They can then share a scannable code with guests. Guests can join the session and play, pause, skip, and select tracks in the queue. They can also add their own music tracks to be played next. Any changes made by each guest are displayed immediately on the participating devices.
While a Spotify Group Session is relatively new, the company has experimented with sharing in the past. Collaborative playlists allow friends to share music and re-order tracks. Everyone under a Spotify Family account gets access to the Family Mix playlist, which combines music everyone enjoys.
Spotify Group Session is the first time listeners are offered real-time collaboration in the app.
The feature appears to be designed as a way to help Spotify's playlists go viral. Imagine a DJ sharing their playlist on a live-stream, allowing followers to contribute music. For now, the feature is being advertised as a way for friends and families to connect and entertain themselves, together or apart.