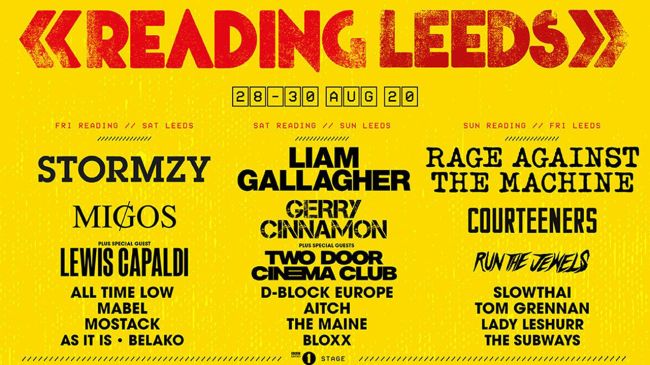 Reading and Leeds music festivals in August are canceled because of coronavirus.
The two festivals were due to take place on August 28th- 30th this year, with headliners Liam Gallagher, Stormzy, and Rage Against The Machine. Organizers say the Reading and Leeds festivals would return in 2021 on the same holiday weekend.
"Reading and Leeds will no longer be taking place this year," a statement from festival organizers reads .
"We've been closely monitoring this unprecedented situation, and we were hopeful we could deliver the ultimate festival to you in August, something to look forward to in these strange and confusing times. However, it has become clear that it's just not possible for this year's festival to go ahead."
More than 90 acts were set to perform at Reading and Leeds this year – Migos and AJ Tracey among them.
Other festivals that saw the ax this year include Lighting in a Bottle, Ultra Miami, and SXSW. At present, Coachella remains postponed, but may ultimately be cancelled as well.
Reading and Leeds festivals are two of the largest music events in Britain. Reading has a capacity of 105,000 music fans, while Leeds can handle 75,000. The festivals kicked off in the 1960s as rock festivals, before moving to a more diverse line-up.
Headliners for last year's show included Post Malone, Twenty One Pilots, and Foo Fighters. Billie Eilish also performed at the festival alongside The Distillers, Bastille, Blossoms, Yungblud, and more. "We promise that Leeds 2021 will be worth the wait," organizers say
Across-the-board, live event organizers are struggling badly with the global pandemic. Insurance provisions may not cover pandemic events, which leaves many shows left holding the bag. It doesn't help that the live events industry will be one of the last to return, according to numerous return schedules.
Recent polls suggest Americans are not willing to attend live events until a coronavirus vaccine is readily available for everyone. Expect more cancellations from events like Bonnaroo, which postponed until September.