The mobile version of Fortnite has achieved over $1 billion in lifetime in-app sales across iOS and Android.
App analytics firm SensorTower revealed the news in a report about the growth of the mobile game. Spending in Fortnite reached $44.3 million in April as many countries continued their pandemic lockdown. That number is up from $23.3 million in March and $35.4 million in April 2019.
Fortnite crossed the $1 billion revenue threshold from iOS in-app transactions alone.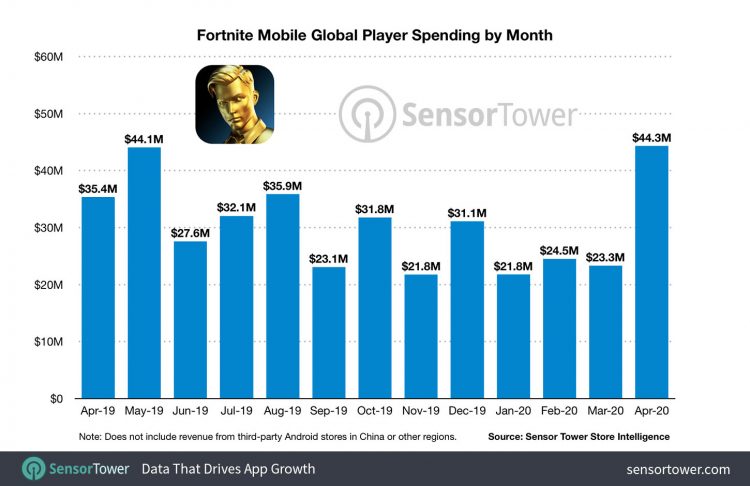 Up until a few months ago, Fortnite was unavailable on Google Play. Epic Games launched outside of the Google Play store in protest of Google's 30% cut from the Play Store. Since that option was not available on Apple devices, Epic had no choice there.
However, Epic has since launched Fortnite on the Google Play Store, and its revenues are estimated to be around $937,000. That's not too shabby for a game that only launched in mid-April on the Play Store.
The United States generates the most revenue for the mobile version of Fortnite, accounting for $632.2 million.
That's 63% of the total income from in-app transactions alone. Great Britain falls into the #2 spot with $38.2 million or 3.8% of app revenue. Switzerland takes the #3 spot with $36.3 million or 3.6% of app revenue.
So far, Fortnite has generated over 129 million downloads across iOS and Android. The U.S. takes the top spot for downloads, with over 51 million unique installs in April alone. Great Britain and France round out the second and third spots for downloads generated.
The iOS version accounts for 96.7% of installs so far, thanks to the late Android launch. SensorTower estimates the Google Play version has accumulated 4.2 million downloads since launch last month. Expect those numbers to rise though, as the new Party Royale mode attracts more non-gamers to its virtual concert experiences. You can bet there will be more artist collaborations like Travis Scott's Astronomical tour, too.