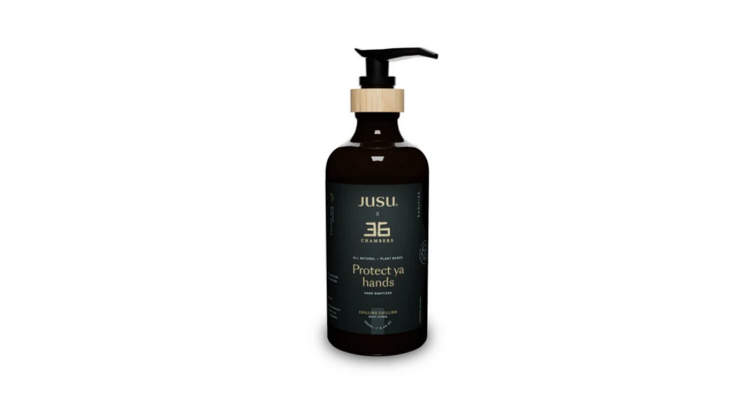 Wu-Tang Clan is releasing a hand sanitizer — 'Protect Ya Hands' to benefit charity.
The name of the hand sanitizer is a play on the group's 1993 track, "Protect Ya Neck." It's available through the group's lifestyle brand, 36 Chambers. A share of the profits will benefit the Ottawa Mission Foundation – while 36 Chambers will donate another bottle to homeless shelters.
'Protect Ya Hands' is available for $20 and is an "all-natural, plant-based, vegan hand sanitizer with a spicy citrus scent." On April 2nd, Wu-Tang Clan tweeted a donation link for the Ottawa Food Bank. "Within 48 hours, that action helped spur an additional $280,000 in contributions," 36 Chambers said.
"Whether it's through our music or our actions, the purpose of 36 Chambers is always to see a better tomorrow," the lifestyle brand says. Three products in the 36 Chambers store benefit three different Ottawa charities.
A t-shirt and a bowl of vegan food from the Wu-Tang Clan also benefit the Ottawa Food Bank and Children's Hospital of Eastern Ontario.
36 Chambers said their connections in Ottawa to help assist in the food drive. "It was inspiring to us just how many people from Ottawa responded to [the food bank]. That inspired us to work with the city of Ottawa to raise funds and release the Better Tomorrow collection. It was great for RZA to give his blessing," the brand says.
Hand sanitizer continues to be in low supply across the country as the world grapples with COVID-19. Donating hand sanitizer to homeless shelters is just one way to help keep a vulnerable population safe. The other charity products also benefit causes that are crucial services to Ottawans.
Last year, Wu-Tang Clan was honored with a pop-up museum sharing information about the group. The museum coincided with the release of a four-part docuseries on Showtime called Wu-Tang: of Mics and Men.