Several high-profile Twitch streamers received DMCA takedown requests for using copyrighted music.
Over the weekend, several Twitch streamers report receiving a wave of DMCA takedowns. Fusile, for example, took to Twitter to share that his channel has received two copyright strikes from content in 2019. "Told that if they find one more violation in my clips, my Twitch account will be permabanned," Fusile wrote
Several other streamers quickly confirmed they received the same DMCA takedown notices. Some streamers received a 24-hour ban threat if they did not comply with removal. Some of the songs include "7 Rings" by Ariana Grande, "In Da Club" by 50 Cent, and "Staying Alive" by Bee Gees.
Twitch streamers are now combing through their old clips to remove music clips – others are mass deleting their clip archive. That's not too surprising since much of the streaming experience involves requesting music from the host. That may be a thing of the past, according to the updated terms of service agreement published on Twitch.
Twitch will now heavily enforce DMCA takedowns and other actions against copyright violations.
The updated ToS guidelines outline what Twitch streamers can and cannot do with music. Music content owned or licensed can be shared, as well as Twitch Sings performances. However, radio-style music listening shows, DJ sets, karaoke performances, lip-synch performances, covers, and lyrics are no longer allowed under the new terms of service.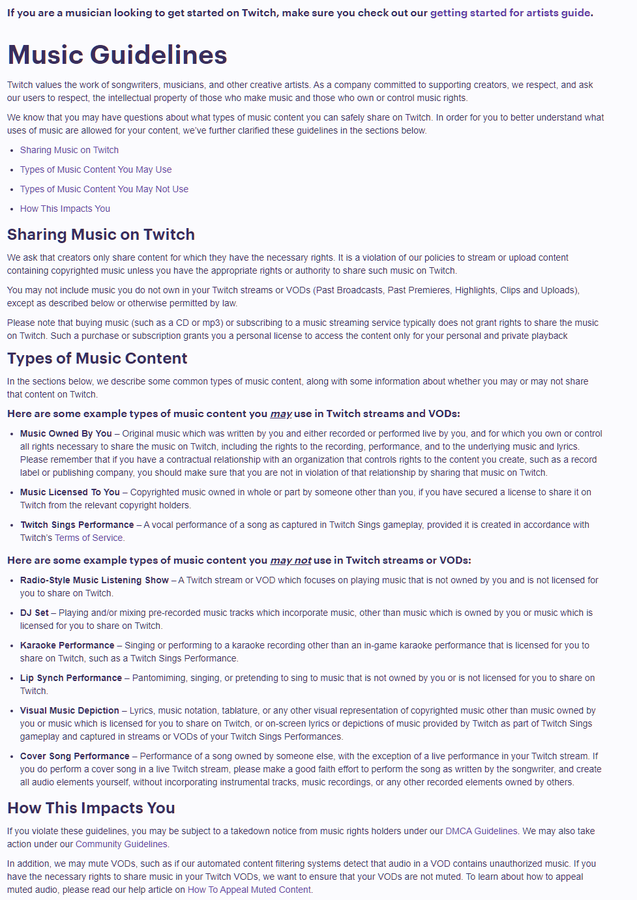 It's unclear what this means for music games like Beat Saber and Guitar Hero – which feature hundreds of licensed songs. Previously, the service would mute offending clips when they received a complaint or DMCA takedown. Now the service is outright removing these clips and issuing copyright strikes to offending channels.
"Twitch values the work of songwriters, musicians, and other creative artists," the new Music Guidelines read. "As a company committed to supporting creators, we respect, and ask our users to respect, the intellectual property of those who make music and those who own or control music rights."