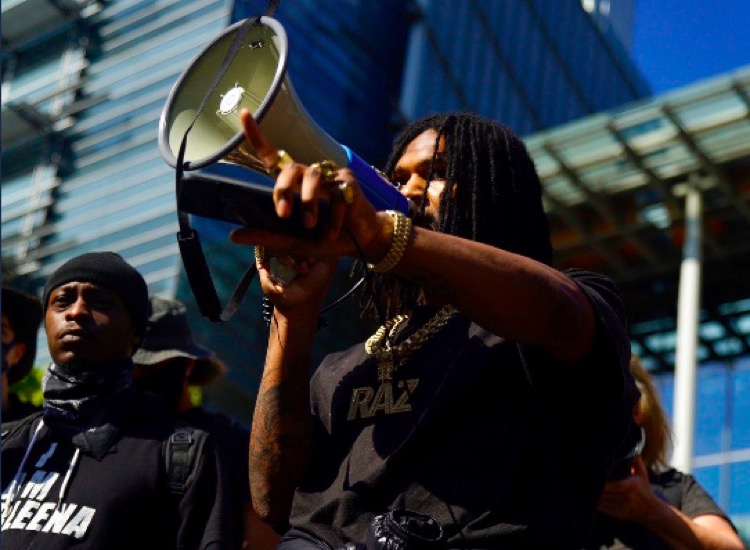 During his controversial reign as the 'warlord' leader of CHAZ, Seattle rapper Raz Simone has enjoyed a surge in Spotify streams.
Many hip-hop fans already knew about Raz Simone before Black Lives Matter protests took over American cities starting in late March.  The rapper enjoyed a touring stint with Macklemore, collaborations with well-known rappers like Pusha T, and write-ups in a number of hip hop blogs.  But Simone's heavy involvement in the creation of Seattle's Capitol Hill Autonomous Zone, or CHAZ, has given the rapper a brand-new level of exposure.
CHAZ emerged after protestors took control of a local Seattle Police precinct on June 8th, forcing officers to vacate the station. The precinct was eventually surrounded by an approximately 4-square block occupation zone, which was walled off and protected by protesters. The members of CHAZ quickly proclaimed a police-free area, while issuing a list of demands that included rent control, defunding of police forces, and the end of gentrification.
Almost immediately, Raz Simone (whose real name is Solomon Samuel Simone) emerged as a leader of the newly-created zone. But Raz's rise to power hasn't been easy: almost immediately, Simone was criticized for appointing armed guards at the fortified gates of CHAZ. Soon thereafter, the rapper was filmed violently disciplining a graffiti artist, while declaring, 'We are the police of this community now.'
Other reports claimed that Raz was seen toting an AK-47 around CHAZ with a small army; the rapper was soon dubbed a 'warlord' of the zone. Even President Trump weighed in, chastising the 'anarchists' running CHAZ (without naming Simone by name).
Adding to the complications, Simone was soon getting lambasted for sending anti-LGBTQ tweets (the rapper dubiously claimed that his account was hacked with backdated posts).
But despite the rocky rise-to-power — or because of it— Raz Simone has been garnering some serious spikes in Spotify plays.
According to stats shared with DMN this afternoon, the rapper has been amassing hundreds of thousands of fresh plays over the past few days on Spotify — and that doesn't even count Apple Music, YouTube Music, and other streaming platforms. At least three songs are garnering increased plays, including 'Baby Jesus,' 'Sometimes I Don't,' and 'The Lights.'
Exactly how this all pans out for Raz is unclear at this stage.  For now, streams are likely continue to remain strong as the spotlight on CHAZ continues — with Raz potentially parlaying the attention into a bigger rap career.