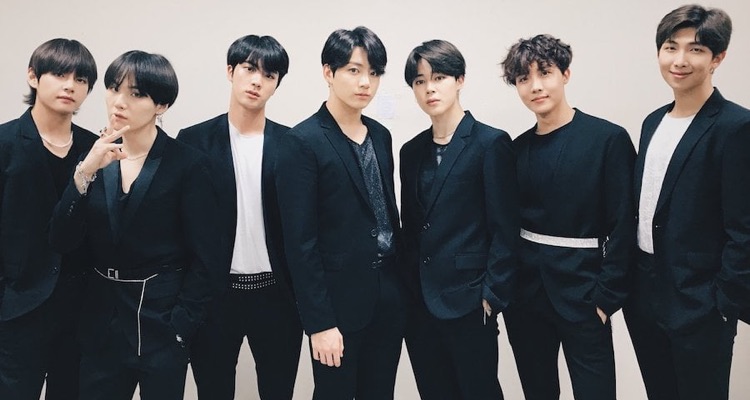 Seven-piece boy band BTS attracted a record-breaking number of viewers to its recently held "Bang Bang Con: The Live" virtual concert — according to stats from BTS management group Big Hit Entertainment.
BTS performed 14 tracks across a roughly 100-minute-long show on Sunday evening (at six o'clock) in their native Korea – or five o'clock in the morning EST and two o'clock in the morning PST.
Per Big Hit Entertainment, BTS's label and management group, over 750,000 concurrent viewers (located in more than 100 countries) tuned in for the pay-per-view event, with pre-order tickets costing $35 and ARMY fan-club tickets going for $26.
Rounding total ticket sales down to 750,000 (the precise concurrent-viewer number is larger) and assuming that all tickets were purchased by fan-club members, the show would have earned exactly $19.5 million.
In a further testament to the ample fan interest in "Bang Bang Con," BTS published a Korean-language tweet commemorating the remote concert, and the message has garnered approximately 1.1 million likes and 427,000 retweets thus far.
BTS thanked fans for attending the gig – and invited them to listen to its official playlist on Apple Music – in a subsequent, English-language message, which had received about 592,000 likes and 131,000 retweets at the time of this writing.
BTS' reach and popularity are anything but typical, and the K-pop group's carefully coordinated, multi-room and multi-camera show likely required significant time and money to execute. However, this unprecedented livestream success may well prompt other high-profile artists and professionals to entertain fans – and score a major payday – amid the coronavirus (COVID-19) crisis.
About one week back, Digital Music News was first to report that BTS had donated $1 million to the Black Lives Matter movement, and that its dedicated BTS Army members had matched the contribution within 24 hours.
The first episode of I-Land, a reality show produced by Big Hit Entertainment chairman Bang Si-Hyuk, is set to air on June 26th.