With the coronavirus (COVID-19) pandemic continuing to wreak havoc on live touring, artists are having a particularly difficult time making ends meet. But that's sparking more innovation from non-touring areas, with players like The Music Fund focusing on ways to maximize streaming royalty income.
Health concerns stemming from the novel coronavirus, in coordination with government-mandated social-distancing orders and large-gathering bans, have brought the live event industry to a screeching halt.  In turn, artists are doing without concerts – one of their foremost sources of revenue. Further complicating matters, merchandise sales have dropped, and sync licensing income has become less predictable as visual-media production slows.
Accordingly, the months that separate music streaming services' artist payments feel longer than ever.
There's clearly money in streaming.  But the problem is that there isn't enough right now, and options for drawing advances on streaming royalties can be problematic. Today's funding environment, including typical royalty advances and royalty loans, are fraught with hurdles and hazards. Royalty advances take a substantial amount of time to close and often limit the creative freedom and professional prospects of the artist. Similarly, the stress associated with the royalty-recouping process can be overwhelming.
That problem is now being addressed by The Music Fund, whose music pricing engine allows musicians to receive upfront cash based on their streaming levels.
Addressing a painful market problem, The Music Fund has crafted a more data-driven, easily accessible self-service payment solution designed to put cash into artists' pockets.  The company is aiming to change the artist-funding landscape for the better, while solving multiple financing headaches associated with streaming.  Accordingly, Digital Music News is partnering to help expand the concept to a massive group of artists who could benefit from the solution.
After judging key metrics from an artist's Spotify for Artists and Apple Music for Artists profiles, as well as his or her royalty statements, The Music Fund plugs these figures into its music pricing engine, which scales for many possibilities and accounts for a diverse collection of factors.  Right now, the focus is on master royalties, but over time, publishing royalties will be layered into the mix.
The Music Fund's terms and business model are decidedly transparent and straightforward, and artists can decide exactly what percentage of their royalties they want to sell for 2-year terms (from 1-99%)
In a nutshell, artists can utilize the company's self-service platform to receive cash simply by selling one percent or more of their master-royalty earnings (the exact percentage is up to the artist). Terms typically run at least two years, with lots of leeway on percentages, cash amounts, and other variables.
"It seems like a great solution for independent artists rather than getting wrapped up in a label deal for a long time," said Aubrey Primer, manager of Hovvdy.
TMF self-service payments are typically worth between $5,000 and $50,000, and the company recommends that artists who apply for funding have a minimum of 100,000 monthly streaming-service listeners.  Artists that fully own their masters can execute whatever deal terms they prefer, though The Music Fund says they're also open to working with label-signed artists (as long as the artist owns some portion of their royalties).
TMF says they stand behind its earnings prediction so much so that if they are wrong, the artist doesn't owe them anything.
To be clear, these funds aren't advances or loans; instead, they're no-strings-attached payments that artists can use to advance their careers however they see fit. Recipients take on no debt and assume no obligation whatsoever, which offers a huge competitive advantage. Whether artists decide to finance a massive promotional effort, a new record, or a (post-coronavirus) world tour, the money is theirs – and theirs alone – to use.
The startup process is pretty simple. Artists input their information, wait as little as one day, and decide if the offered payment is right for them.  Independent musicians and signed acts alike are encouraged to apply.
The Music Fund is a numbers-driven model, one that aims to accommodate the music industry's inherent unpredictability.  Basically, The Music Fund is betting that its returns will be solid across a large number of bets.  So if they don't turn a profit on a particular deal, the artist at hand bears no responsibility and isn't obligated to pay back any portion of the previously-provided upfront payment.
In a similar vein, TMF's Big Hit Protection kicks in when the platform earns beyond a certain threshold on its initial deal investment, at which time the artist receives half of all subsequent royalties.
Though The Music Fund recommends that applicants have at least 100,000 monthly listeners, that's not a firm rule. TMF has made offers to artists whose monthly listeners are as low as 30,000, with annual income of $5,000.
Though artists can receive royalty offers from The Music Fund in as little as one day, once again, prospective clients also have the opportunity to test the company's payment-calculation formula via Playground.
The service is still in beta, but it enables users to view and customize (roughly estimated) royalty offers for some of today's most prominent artists, including Billie Eilish and Post Malone, so that they develop a firsthand feel for how TMF functions.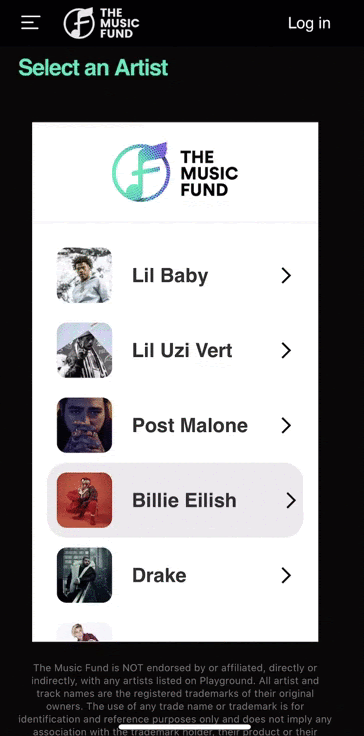 (To check out your own potential earnings, go here.)
The new model might be arriving just in time.  At present, the novel coronavirus is having a greater impact on the music industry than the 2008 financial crisis.  Economic uncertainty, along with the unprecedented cancelation of live performances and several other factors, means that most of today's artists are struggling under the weight of extraordinary circumstances.
Against that backdrop, The Music Fund is hoping that its universally accessible solution will help a large number of musicians – and the music community as a whole – weather the storm, grow, and become stronger in COVID-19's wake.  Indeed, if there's any silver lining to this pandemic, it's the possibility that more innovative and sustainable earnings solutions like these emerge.
"I love that this is data-driven, as stats can't be faked," Tom Carillo, the manager of Patternist, said. "I'm definitely supporting it as a new way of artist funding."