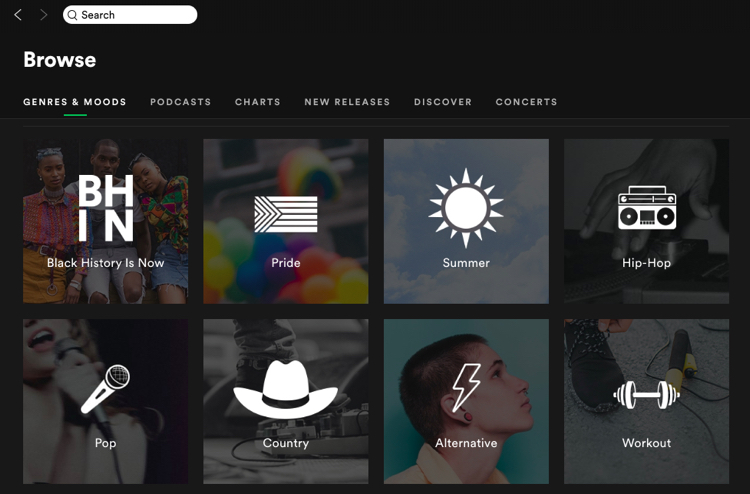 While the temptation to buy Spotify streams is understandably strong, the low-cost move is almost always accompanied by low-quality results – and disastrous consequences.
In today's music landscape, streaming is a key component of every successful artist's career.  So it's no surprise that musicians are bombarded with offers to quickly spike their inclusion on playlists. That includes Spotify, as well as competing platforms like Apple Music, Amazon Music, and TIDAL.
A quick Google or social media search will unveil hundreds – if not thousands – of entities that allow artists to buy Spotify streams. For a relatively small upfront payment, artists can take their tracks and their careers to the next level – at least according to the "brand promoters" offering the plays.
In reality, the promptly delivered streams frequently derive from bots, meaning that fans (or even people) aren't the ones playing the songs, and there's no window of opportunity for artists to build their fan bases and bolster interest in their work. Moreover, to buy Spotify streams is simply to compromise the track(s) at hand, for Spotify and other leading streaming services detect unauthentic plays, flag the involved work, levy penalties, and, in some instances, ban the responsible artists outright.
That's becoming an enormous problem for artists who take the bait — and then spend endless time trying to recover their streaming cred. But a premium crop of playlist builders, led by companies like 
PlaylistStreams
, is focusing on organic playlist growth to build genuine growth for artists.
The solution to helping artists secure genuine support via streaming platforms – and elevate their careers – is organic integration into Spotify fan playlists, with an emphasis on reliable research and demographics-based results tracking. To be sure, countless companies offer artists spots on "popular" playlists followed mainly by inactive accounts and/or bots.
But for the last four years, PlaylistStreams has taken an entirely different (and exponentially more effective) approach, inspired by a desire to aid artists and help them avoid the pitfalls of bot plays and inactive playlists.
"There's no way to drive 100,000 organic streams for $250," PlaylistStreams founder Nigel Sparkes told Digital Music News. "You're not getting any real fans, you're really going in circles without much progress."
With a carefully analyzed and vetted database of approximately 5,000 Spotify playlists to its credit, the Century City, California-headquartered PlaylistStreams facilitates the placement of songs with high growth potential on the playlists that are best suited to bring about meaningful results.
A multitude of quick-rising artists have benefited from these meaningful results as of late. After partnering with PlaylistStreams and gaining slots on 25 handpicked playlists, rapper Yung Pooda rode a wave of organic interaction and streams to placements on over 1,100 playlists. Like other PlaylistStreams clients, Yung Pooda also experienced a major boost on additional streaming services, including Amazon Music, Apple Music, and TIDAL, to name some.
Similarly, PlaylistStreams helped "Shooters" singer Tory Lanez sizably increase his Spotify playlist inclusions during his time with Interscope Records. And Power actor and artist Rotimi turned his newfound streaming prominence into radio airtime and high-profile film roles (including in Eddie Murphy's upcoming Coming 2 America).
Spotify hasn't flagged any of the 250 or so campaigns that PlaylistStreams has run to date, according to Sparkes, nor has PlaylistStreams had to issue a single refund – even though clients are informed at the outset that their streams are guaranteed to protect their investments.
The key to the company's success – and, in turn, the success of its artists – is precision and authenticity. In a day and age when "see what sticks" promotion is arguably more popular than ever, featuring specially chosen songs (PlaylistStreams' A&R staff are upfront about the tracks that they're willing to promote) on handpicked playlists lays the foundation for material career growth.
"If you use a bot, it's not real people. They can't save a song, and you will get flagged. They'll take your song down."
We've documented the serious pitfalls of buying streams on the cheap, and witnessed the penalties firsthand.  Now, we're joining forces with players like PlaylistStreams to advance a totally different approach for musicians.
Invaluable in its own right, this foundation – and the advantages of PlaylistStreams' organic growth as a whole – starkly contrasts the unavoidable downsides of purchasing streaming plays.
Simply enough, to buy Spotify streams is to jeopardize one's songs and one's career.
"If you use a bot, it's not real people," Sparkes told us. "They can't save a song, and you will get flagged. They'll take your song down."
Losing cash and the potential to resonate with listeners on streaming platforms will inhibit any artist's rise, and typically, it's only a matter of time before Spotify pinpoints bot streams and takes disciplinary action ranging from penalties to outright blacklists.
"Spotify can pull up ALL of your data, they can see bots," Sparkes emphasized.
The leading music streaming platform knows more than you think, and as many well-intending independent musicians can attest to, the remote possibility of an upside from botted plays doesn't come close to outweighing the strong likelihood of experiencing serious professional setbacks.
On the other hand, organic listener growth and placement on fans' playlists set the stage for enhanced exposure to a particular demographic, thereby charting the course to Spotify-curated playlists, as well as heightened play counts and royalties. Each step represents an important part of the journey towards a broader audience and additional career opportunities.
To successfully negotiate with Spotify and thrive on other platforms, data-driven leverage is a must.
Though many view Spotify as a means of increasing exposure and turning songs into hits – an end in itself – pitching to the company without a proven track record of organic listenership and appeal is a tremendous mistake. Currently home to over 1.2 million artists and 50 million songs, Spotify quite selectively decides which works to prominently feature and "push" to subscribers.
In this way, organic traction enables artists to demonstrate, via irrefutable data and statistics, that their songs have the ability to make a splash and resonate with fans. Musicians can embark on multiple paths to reach well-known playlists curated by Spotify (as well as larger career opportunities), but for PlaylistStreams, the journey begins with detail-oriented playlist placements and the verifiable listener interest that they create.
Artists who've demonstrated their marketability and potential through play numbers are in an excellent position to pitch to Spotify. Plus, as previously mentioned, the basic principles and listening benchmarks of pitching remain constant across Apple Music, Amazon Music, TIDAL, and other services – so that the results (and advantages) of PlaylistStreams' services may well trickle over.
For musicians in search of a larger audience and a big break, the chance to remotely and affordably buy Spotify streams is alluring. But the process's considerable risks – and the fact that streams can be bought, but fan interest cannot – mean that tailored playlist placements are the most effective ways of reaching a larger audience.
By expertly coordinating playlist placements, PlaylistStreams is innovating the quickly developing streaming landscape – a streaming landscape that delivers millions of songs to listeners in all corners of the globe for the very first time in history. And based upon streaming's exponential growth and all-encompassing selection, it goes without saying that there's a track for every type of listener. The challenge now is helping artists and fans find one another.