A number of musicians are slamming Spotify CEO Daniel Ek over controversial comments he made during a recent interview.
The 37-year-old Spotify co-founder delivered the contentious remarks following the release of his platform's Q2 2020 earnings report, as part of a discussion that covered several topics. Prior to offering the quote that prompted many members of the music community to levy firmly worded (and often expletive-laden) retorts, Ek expressed the opinion that a portion of artists privately voice satisfaction with their Spotify royalties.
However, the Stockholm native also stated that musicians "have no incentive" to publicly relay approval of their payouts. "But unequivocally, from the data," Ek proceeded, "there are more and more artists that are able to live off streaming income in itself."
Ek then explored the idea that some artists' work ethic and release schedules – not Spotify's much-debated per-stream royalty rate – are to blame for their lackluster streaming income.
"There is a narrative fallacy here, combined with the fact that, obviously, some artists that used to do well in the past may not do well in this future landscape, where you can't record music once every three to four years and think that's going to be enough," Ek said.
On social media, the response was swift and sharply critical.
Artists were quick to critique the controversial assertion.  And at the time of this writing, their passionate condemnation was showing few signs of wavering. "Been thinking a lot about Daniel Ek's comments recently. It's not unusual for people to be unable to understand what it takes to create art. However, it is unusual for them to be in complete control of what should be your primary revenue stream as an artist," tweeted one individual.
"This is NOT why we create. This is NOT how it works.  Daniel Ek, saying this just confirms how ignorant you are to artists and the actual creative process. I know you had little regard for musicians but this really is pretty shocking, even by streaming service standards," slammed another user.
"In the middle of the seemingly endless and expensive and expertise-requiring tasks that are involved in putting out a record, and so in the perfect frame of mind to honestly say: go fuck yourself, Daniel Ek," critiqued a third disgruntled artist.
Even harsher criticism came from musicians that "used to do well in the past," starting with Dee Snider.

David Crosby was more curt with his criticism, as was Joan Osbourne.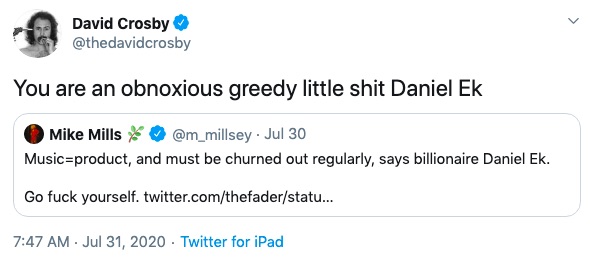 It bears mentioning that while the overwhelming majority of responses to Ek's words appear negative, a select few people have agreed with his assessment.
Ek, for his part, has yet to formally address the widespread disapproval.
SPOT shares closed the day at $250.02 apiece on Wall Street – their lowest price since June.