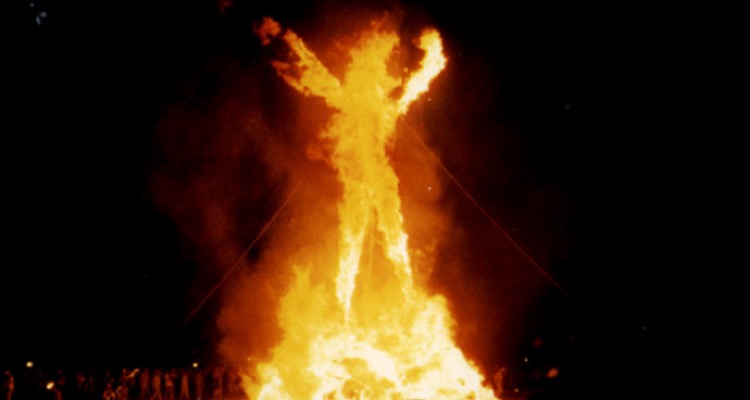 Last month, Digital Music News was first to report that Burning Man was refusing to back down in its high-stakes legal battle with the U.S. government. Now, Burning Man Project (BMP), the non-profit organization behind the 34-year-old event, has rolled out a crowdfunding campaign to "ensure the future."
The to-the-point appeal for financial assistance follows Burning Man 2020's cancellation due to health and safety concerns stemming from the COVID-19 crisis. Moreover, in announcing that Burning Man 2020 wouldn't take place, organizers cast doubt upon future iterations of their function, which attracted nearly 80,000 attendees in 2019.
A crew works around the year to build – and dismantle – Black Rock City, the temporary city that has served as Burning Man's site since 1998. Burning Man Project opted to issue refunds for all 2020 passes, but indicated: "We could only stay operational for a few months on our reserve funds."
Given that Burning Man officials made the latter statement in April, they've evidently managed to keep the event afloat – likely due in part to support generated from the innovative digital version of Black Rock City. Similarly, Burning Man announced today that it will afford fans the chance to explore the "Recognized Universes of the Burning Man Multiverse, one official virtual Temple, and a soon-to-be-announced Build Your Own Man global Burn night" between August 30th and September 6th.
Despite this comprehensive digital offering, the annual gathering's physical edition is far from set in stone, as the crowdfunding page acknowledges the "unprecedented revenue shortfall" that BMP is facing. Furthermore, the text relays: "We can't do this without your help. … We are depending on the extraordinary generosity of our community to ensure the future of Burning Man."
On the lawsuit front, our coverage of BMP's legal action against the Department of the Interior – and specifically its Bureau of Land Management agency – began in December of 2019. The complaint centers on the Bureau's alleged increases of Burning Man's land-use fees, along with a structure that made it logistically unworkable for organizers to dispute the charges. The lawsuit was formally set in motion this February. (BMP fronts a multimillion-dollar yearly fee to use the Black Rock Desert, which is among the more than 80 percent of Nevada land owned by the federal government.)
Now, we've obtained an exclusive copy of a newly-filed amended complaint, which provides additional context to Burning Man's qualms. As a condition for receiving the special recreation permit required to host their event, BMP higher-ups must pay a cost recovery bill, which they claim has become excessively expensive in recent years. The cost-recovery fee is currently about $3 million per year – including "nearly $1 million for the direct costs of law enforcement labor alone" in 2019.
In 2012, Burning Man paid a roughly $1.37 million cost recovery fee, which jumped to $2.93 million in 2013, according to the complaint. Between 2015 and 2019, the entity allegedly paid the federal government over $18 million.
More as this develops.