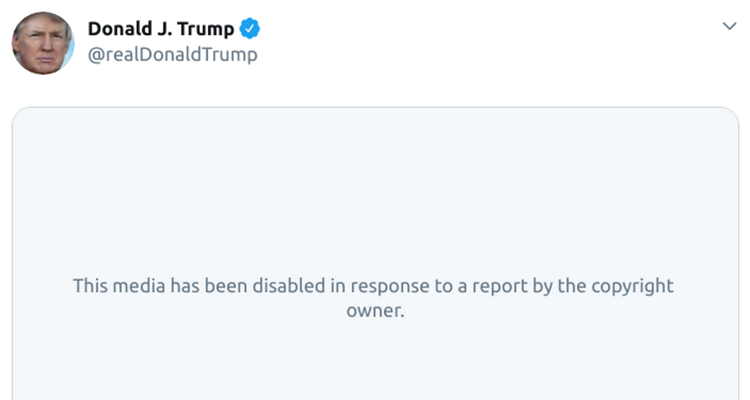 Musician Eddy Grant is suing Trump over copyright infringement for tweeting a video featuring 'Electric Avenue.'
On Tuesday, Twitter removed the tweet by President Trump, first tweeted on August 12th. The video remained available until Twitter received a copyright complaint from Eddy Grant. The 55-second video shows a fast train representing the Trump/Pence ticket. Joe Biden followed behind on a pump car, with Grant's 'Electric Avenue' playing in the background.
Lawyers representing Grant filed the Trump 'Electric Avenue' lawsuit in the Southern District of New York, seeking unspecified damages. "None of the Plaintiffs, nor any agent on their respective behalves, has licensed any rights in the composition to either Mr. Trump or [the Trump campaign] or otherwise consented to Defendants' use of the composition in connection with the infringing video."
A cease-and-desist letter filed with the court says Eddy Grant has sustained substantial damage. His lawyers further argue that the use of Grant's music indicates "a fundamental misunderstanding of the very meaning of the underlying work."
It took Twitter 20 days to remove the video from the time it was tweeted on August 12th to removal on September 1st. At that time, it accrued 14,000 retweets and over 350,000 likes. The cease-and-desist letter was sent to the Trump campaign on the day the video was tweeted.
It reads: "As a result of your wrongful unauthorized Infringing Use in connection with your controversial political campaign, substantial damage and irreparable harm has occurred and will continue to occur to my client and his reputation as an artist when affiliated in any way with your campaign."
'Electric Avenue' first debuted in 1983 and found success thanks to MTV. It became one of the year's biggest hits in both the United States and the United Kingdom. The song references the Electric Avenue in Brixton, South London. It was the first market street to be lit by electricity. But the song was also a reference to riots that had happened in the area in 1982.
After the 'Electric Avenue' cease-and-desist letter was sent, Eddy Grant issued a personal statement. "Mr. Trump, I am calling on you. You are the final arbiter, and I await word from you."
So far, the Trump campaign has not responded to the lawsuit. It has repeatedly received cease-and-desist letters or been sued by artists who object to their music being used by the campaign. The Rolling Stones went so far as to get both BMI and ASCAP legal teams to back up their legal threats.