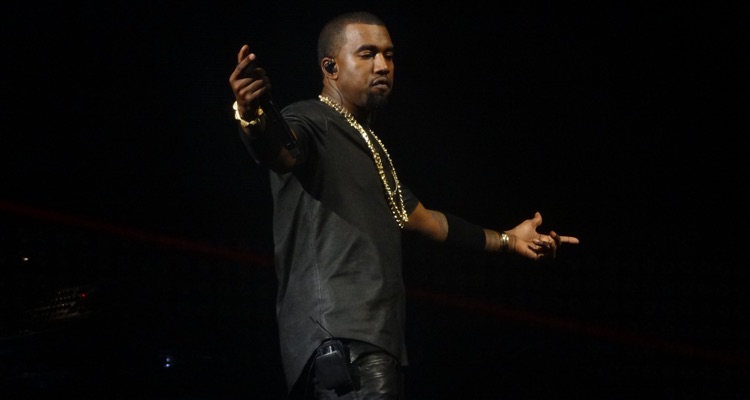 In a recently published tweet, Kanye West described the music industry and the NBA as "modern day slave ships" – and, via subsequent posts, spurred formal conversations with Vivendi higher-ups.
Kanye West penned the first of these attention-grabbing social-media messages yesterday evening, mentioning Big Three record labels Universal Music and Sony Music by name.
"I need to see everybody's contracts at Universal and Sony," wrote the world's richest musician. "I'm not gonna watch my people be enslaved…The music industry and the NBA are modern day slave ships."
The 43-year-old artist closed the late-night tweet by declaring: "I'm the new Moses." Then, about three hours later, West fired off a series of four additional messages (apparently relating to the same core topic) within a two-minute stretch, imploring his followers to "buy land" and "buy property."
Less than an hour later, the "Stronger" singer's attention returned to music. "My kids gonna own my masters," West specified.
Today, the Chicagoan indicated in an early-morning tweet that it was "go time," as "no one from Universal or Sony" had responded to his posts.
This "go time" declaration was accompanied by a screencap of three text messages (seemingly exchanged between West and a legal professional) exploring ways West could potentially assume ownership of his masters.
Highlighting "the lawsuit/termination nuclear option" at the outset, the texts also covered the possibility of purchasing his masters, re-recording the tracks and owning the new masters (as Taylor Swift intends to do in November), or entering into a "joint venture with Universal." However, a follow-up text (presumably sent by Kanye West) firmly proclaimed: "I'm not open to any form of business with Universal or Sony."
This clear-cut statement appears to have elicited a prompt response from Katie Jacobs Stanton, a former Twitter exec and Moxxie Ventures founder who sits on the board of Vivendi, Universal Music Group's majority (90 percent) owner. In revealing that Stanton had reached out, West promised to "keep everyone updated on how this meeting with Vivendi goes."
An hour later, West characterized the dialogue with Stanton as "great," before relaying that he would speak next with Arnaud de Puyfontaine, who's served as Vivendi's CEO since 2014. In a testament to the depth of West's qualms (and/or his desire to engage in hardball negotiations), this tweet included another text-message screencap, stating of Puyfontaine: "This is Lucian Boss," or the boss of Universal Music Group CEO Lucian Grainge.
West committed to providing additional reports on the conversation's progress, but at the time of this writing, the 2020 presidential hopeful hadn't yet disclosed further details, with his latest tweet highlighting the federal government's reportedly imminent approval of the Oracle-TikTok deal.
At this stage, neither UMG nor Sony Music officials have commented publicly on the subject.