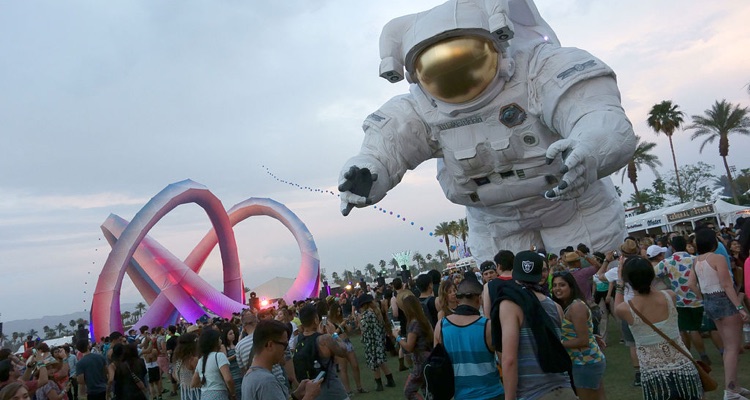 In May, Digital Music News was first to report that the Coachella anti-competitive "radius clause" lawsuit was back on. Now, Anschutz Entertainment Group (AEG) has refuted the far-reaching allegations in an updated filing.
To briefly recap the years-long courtroom confrontation, Portland-based concert promoter Soul'd Out Productions first filed its complaint against AEG Presents, Goldenvoice, and Coachella itself in 2018. The legal action centers on the "radius clause" included in performers' Coachella contracts.
We've covered the controversial component of artists' Coachella agreements in greater detail, but essentially, it prevents performers from playing other North American music festivals or hard-ticket gigs in Southern California between December 15th and May 1st.
Soul'd Out alleges that the defendants aim to "monopolize the market for popular music" with the radius clause, whereas Coachella maintains that the corresponding stipulations serve to prevent other festivals from "unfairly free-riding on its creative choices in selecting its artist lineup." A judge dismissed the suit with prejudice in March of 2019, determining that the radius clause didn't inflict any anti-competitive injury on Soul'd Out.
But in mid-May of this year, an appeals court overturned the ruling, expressing the belief that Soul'd Out had "alleged a concrete and particularized injury" despite not being a party to Coachella's performer contracts. Coachella then sought the case's dismissal, and Soul'd Out promptly fired back.
DMN has obtained an exclusive copy of a latest filing, in which AEG offers a point-by-point refutation of the allegations set forth in Soul'd Out's second amended complaint. Predictably, the almost 60-page-long document encompasses clear-cut denials of the allegations at the center of Soul'd Out's case, as well as concurrences with the suit's more obvious elements. For example, one line from the filing reads: "AEG admits that the Radius Clause exists."
However, AEG's 16 affirmative defenses are decidedly more concrete. Beginning by alleging that "the matter in controversy" doesn't exceed $75,000 (and suggesting that the complaint should therefore be dismissed), the affirmative defenses proceed to claim that Soul'd Out "has neither sustained nor is threatened by any injury" stemming from the Coachella artist agreements or AEG's related actions.
Furthermore, the plaintiff allegedly "suffered no damages" as a result of the subjects at the heart of the case, and the allegations "challenge the exercise of rights," including the First Amendment and California and Oregon's respective constitutions, per AEG and its counsel.
At the time of this writing, Soul'd Out hadn't publicly addressed the newest claims made by AEG in the extensive Coachella radius clause lawsuit.