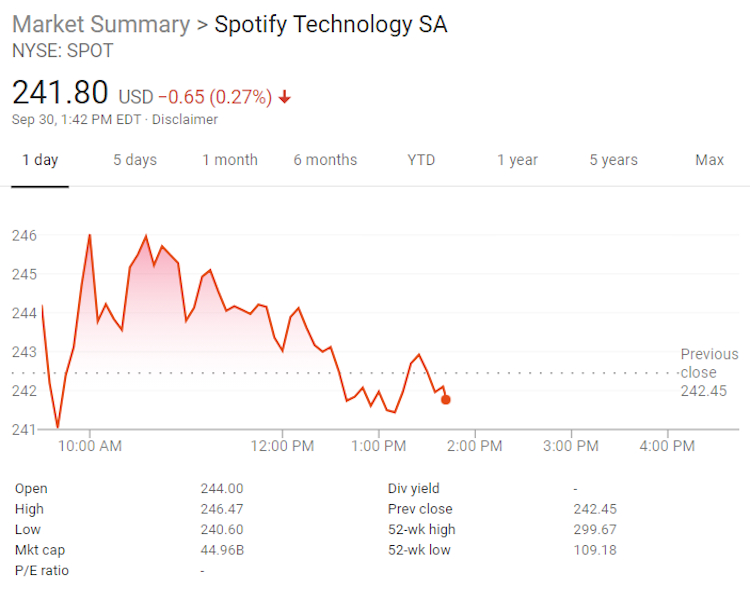 Spotify stock has parted with about 17 percent of its value since September's start, for a total market cap loss of roughly $9.4 billion.
On September 1st, when The Joe Rogan Experience arrived on the leading music streaming service, Spotify stock closed at $291.75 per share – a meteoric rise from its approximately $117 value in mid-March, during the early days of the COVID-19 pandemic. At the time of this writing, however, SPOT was trading for $241.97. And while the figure is substantial compared to the mentioned March low, it represents a nearly $50 falloff since September's beginning.
Shares experienced noticeable volatility over the month. September 8th's SPOT closing price of $240.02 was followed by slight rebounds (to nearly $250 per share) and occasional declines (to the low-$230s). But as September's month-end value demonstrates, the stock ultimately steadied around $240.
Calculating solely for Spotify's public float – 121.92 million shares owned by individual investors – September's dip has brought with it a market-cap decrease in excess of $6 billion. And factoring for all 189.95 million outstanding SPOT shares – those owned by the public, financial institutions, and higher-ups alike – the $50-per-share downturn means that the Spotify stock market cap has lost north of $9.4 billion in September alone.
Needless to say, stock values are known to fluctuate – especially amid economically uncertain periods like that ushered in by the coronavirus pandemic.
But the figures bear reiterating and analyzing because financial professionals have adopted decidedly different positions on Spotify's long-term outlook and growth potential. Whether the bullish or bearish view holds true could impact the streaming service's future, including its much-publicized podcasting investments.
Building upon the point, Guggenheim Investments struck an optimistic tone when assessing SPOT earlier this week, upping its target price from $230 to $250. Goldman Sachs has settled on a $280 Spotify stock target price, and Credit Suisse and RBC Capital have set target prices of $315 and $320, respectively. Inversely, UBS's bullish assessment came with a $204 SPOT target price, while Bernstein cast doubt upon the profitability of podcasts with its $172 target price.
The $148 variance between the largest and smallest values – representing $28.11 billion in total value – underscores the huge range of opinions on Spotify's future.
At the core of the issue is whether Spotify – which has long struggled to achieve profitability – will be able to generate significant revenue from its exclusive podcast library. Presently, this lineup encompasses The Joe Rogan Experience, a criminal-justice program from Kim Kardashian West, a show from TikTok star Addison Rae, and many others.
Outside of the inherent difficulties associated with recouping the millions spent to acquire the podcasts, internal disagreements – including a potential Spotify employee strike – and enhanced competition are continuing to weigh on the platform's high-profile moves in the podcasting space.