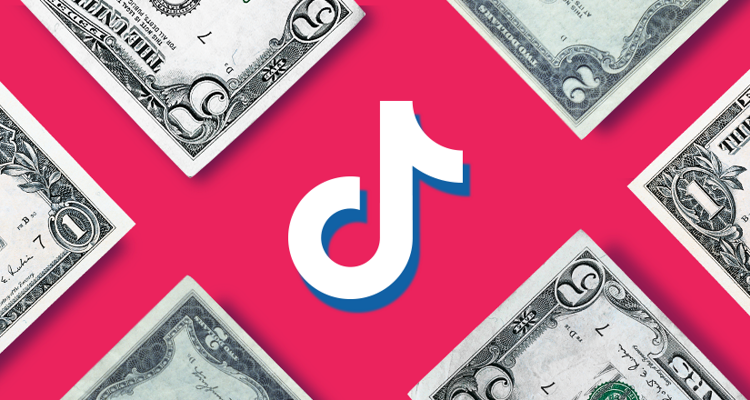 Yes, TikTok will pay you money, thanks to a recently-created $200 million fund for creators. You probably won't get rich, but here's exactly how much you'll get paid from TikTok's 'Creator Fund.'
In theory, TikTok's recently-minted $200 million Creator Fund is a great way to support creators on the platform. In practice, it's much different, however.
TikTok first announced the Creator Fund back in July. TikTok said eligible creators would receive a monthly amount for their engagement on the platform. At the time of the announcement, however, TikTok did not define the required baseline number of followers to qualify for the Creator Fund.
TikTok began accepting applications for the Creator Fund in August (applications are accepted through TikTok's app using a pro/creator account; more details on eligibility requirements here). The company says the $200 million in funds will be distributed to applicants "over the next year," and the funding will increase to $1 billion over the next three years.
With the first payments now in, here's a look at what TikTok creators are receiving.
Tubefilter explored whether or not the TikTok community felt the Creator Fund is worth it. So, does TikTok pay you? The short answer is yes, but the long answer comes with some caveats.
First, some creators who joined the program are reporting diminishing views after joining. TikTok denies that those who join the program are experiencing a downtick in engagement.
"It's definitely a misconception," Stephanie Hind, TikTok's Manager of Talent and Operations, told Tubefilter. "Joining the fund has no bearing on the performance of your videos. The TikTok recommendation system and the Creator Fund are two totally separate systems that don't even interact with each other."
But many TikTok creators who spoke with Tubefilter say that's not really true.
A handful of creators reported income of $0.02—$0.04 of revenue per 1,000 views (RPM). That means your average TikToker isn't getting rich from the Creator Fund any time soon.
But those who rake in millions of views could be earning upwards of $100,000 from the Creator Fund.
TikTok says the $200 million it committed to the Creator Fund in the U.S. is just the beginning. The company plans to increase the fund amount to over $1 billion within the next three years. The fund is a major commitment for a company whose global estimated revenues last year were between $200—$300 million.
It also comes at a time when TikTok is no longer growing as rapidly as it once was. The ban on TikTok in India has led to a rise in new short-form video platforms, like Instagram's Reels and Triller. These services quickly snapped up TikTok's market share in India after the ban went into effect. Now, those upstarts are ready to pounce if TikTok gets banned in the U.S.
But even if TikTok isn't banned, there will be lots of competition ahead. All of which means potentially lower views on TikTok, with potentially other revenue-earning opportunities elsewhere.
So in conclusion: TikTok does pay you, but you shouldn't quit your day job to make videos any time soon.
February 9, 2022 Update – The payouts for the TikTok Creators Fund continue to drop, according to those who are participating.
In a recent episode of the MKBHD podcast Waveform, TikTok creator Hank Green discusses how the program has evolved over its first two years of availability. Green says his own payouts have dropped from 5 cents per 1,000 views to 2.5 cents per 1,000 views now because there are more creators on the platform taking a piece of the pie. Remember, that $200 million Creator Fund isn't being topped up – when it's gone, it's gone.