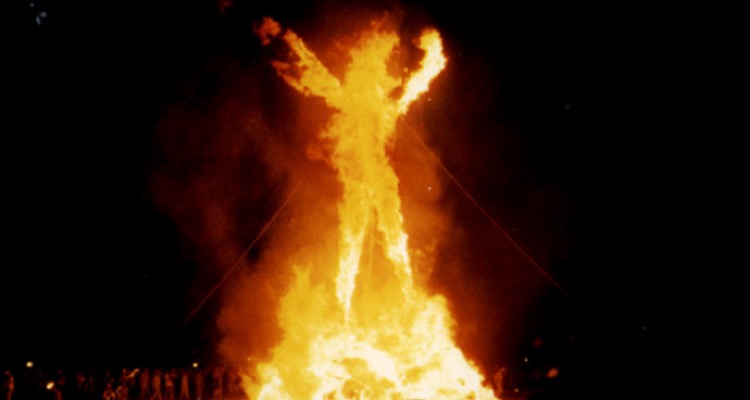 In July, Digital Music News was first to report that Burning Man organizers were moving forward with their lawsuit against the federal government, alleging in part that they'd been forced to pay excessive permit and land-use fees. Now, the Department of the Interior (DOI) has formally responded to the allegations.
Burning Man and Black Rock City set the courtroom confrontation in motion late last year, and the suit officially initiated in February of 2020. It's alleged in the high-profile complaint that the DOI levied "excessive, unjustified and unreasonable permit costs" against Burning Man organizers between 2015 and 2019, to the tune of $18 million.
Additionally, the plaintiffs maintain that the DOI lacked "adequate justification required by federal regulations" to impose the charges, specifically because these bills were allegedly disclosed shortly before Burning Man took place. With the nine-day-long event requiring year-round work from a full-time team, organizers say that they were compelled to accept the last-minute costs as outlined. Otherwise, they'd be unable to use federal land in the Black Rock Desert – and welcome attendees.
For reference, the Burning Man Project (BMP), the nonprofit organization behind the namesake gathering, attributes north of 90 percent of its yearly income to Burning Man ticket sales.
In a new filing, which was recently submitted to a Washington, D.C. federal court, defendants including Secretary of the Interior David Bernhardt refuted the bulk of Black Rock City and Burning Man's allegations. A significant portion of these denials concern precedent and "conclusions of law," as well as citations of the underlying statutes and documents, "which speak for themselves and are the best evidence of their contents."
On the topic of allegedly unfair permit fees, the defendants acknowledge that the plaintiffs requested additional information about the bills, but state that the Bureau of Land Management (BLM) "has provided such explanations." Plus, the legal text characterizes as "vague and ambiguous" Burning Man's allegation that the BLM personnel who were "primarily responsible for these unnecessary costs and escalated cost increases" at the 2015 event were reassigned to different posts by the end of the year, following an internal investigation.
Finally, the DOI introduces a concise series of affirmative defenses, including that the plaintiffs "lack standing" to levy a portion or all of their complaint and that they "fail to state a claim upon which relief may be granted." At the time of this writing, Burning Man and Black Rock City hadn't publicly responded to the federal government's answer.
In August, we reported that the Burning Man Project had launched a crowdfunding campaign to keep Burning Man alive in 2021 and beyond. It's unclear exactly how much the campaign has raised thus far, but organizers specified in an email last month that they must generate $12 million by 2020's end to stay afloat and make Burning Man 2021 a reality.