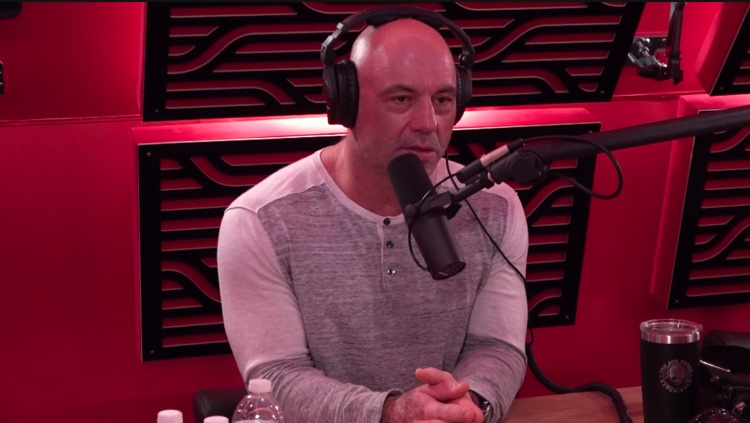 Joe Rogan has now taken another swipe at 'woke' employees and their demands — this time, at Twitter.
After calling out '23-year-old woke kids' at Spotify who are demanding changes to his podcast, Joe Rogan is now calling out activist employees at Twitter. During a three-hour podcast interview with Kanye West, Rogan bluntly called Twitter "censored," while flatly pinning the blame on "woke" employees who are running the show.
The jab came after Kanye West offered a glowing take on Twitter, an assessment clearly not shared by Rogan.
Kanye West: "It feels like Twitter is the safest, freest mass-platform to communicate on.  And you know, they mess with [Twitter CEO] Jack [Dorsey] because of that —"
Joe Rogan: "Well it's still censored. There are a lot of issues now. But I think that's internal. I think it's people that are working there that are woke, that want to stop people from saying certain things.  And there's a lot of struggles with that today, and it's unfortunate because I do agree that it's an unbelievable way to get ideas out there."
Kanye West: "Yeah —"
Joe Rogan: "But it's also a new thing, and mismanaged by the people who use it often.  They don't know what they're doing or why they're doing it."
Rogan's comments follow a string of high-profile blocks by Twitter leading into the U.S. Presidential Election. Just recently, Twitter banned links to a controversial New York Post article alleging that Joe Biden and his son, Hunter Biden, organized a lucrative corruption scheme in the Ukraine while Joe Biden was Vice President. Dorsey eventually backtracked on that decision, calling it "wrong," while explaining that Twitter should "add context" rather than block URLs.
Closer to Rogan's podcast, it's unclear whether Spotify employees are still pushing to delete, edit, or otherwise exercise editorial control over The Joe Rogan Experience. Already, Spotify has omitted several earlier episodes involving controversial guests like Alex Jones during the platform's content migration. But attempts to have more recent episodes deleted have proven unsuccessful — at least so far.
Part of that is the result of pushback by Spotify executives. But one source to Digital Music News noted that multiple Spotify employees were pushing to delay the Kanye West episode, arguing that it could help West draw votes from Joe Biden while 'spreading disinformation'.
Whether West's seemingly-endless rants during the episode are swaying many voters is unclear. Large portions of West's long-winded responses were difficult to understand, though West railed against accusations that he could 'split the black vote'. Currently, West is only on the ballot of a handful of U.S. states, and must be written in on others due to missed registration deadlines.