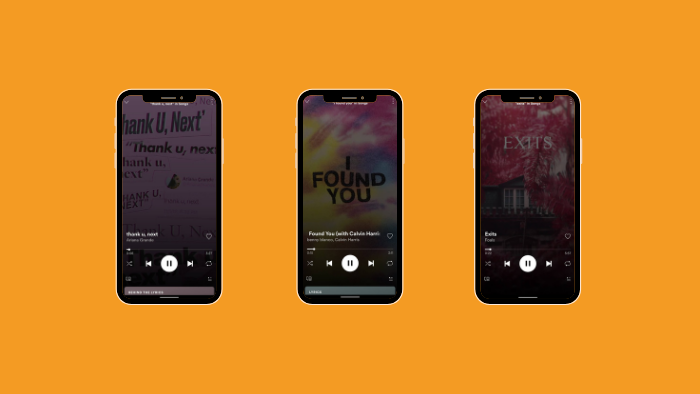 Spotify Canvas loops boost engagement – here's how to take advantage of video loops.
Spotify acquired SoundBetter last year to create a marketplace for artists. It's the same concept as Fiverr, a marketplace where you can pay artists to create short video loops. Spotify Canvas is gaining traction and may soon become an important part of an artists' presentation on the platform.
Some preliminary stats from Spotify reveal some surprising facts about video loops.
Spotify says tracks with a Canvas are 145% more likely to be shared on social media. Users are 5% more likely to keep streaming the track if it has a video loop. They're also 20% more likely to add the song to their personal playlist versus songs without a Canvas background. It apparently helps with artist retention, too – users were 9% more likely to visit a Spotify artist page from a track featuring Spotify video loops.
Spotify's marketplace is full of artists who have created these videos for top artists. The expansion to more artists on the platform will make it a necessary part of artist promotion. Spotify wants to keep it that way since it describes Canvas as "a unique format" for the company (though it's debatable whether a short looping video format can be described as unique).
If you use Spotify's marketplace to create video loops, here's how Spotify describes the process.
"After selecting a designer, artists share details on the sonics of their track and their creative vision, which the designer then takes into account to create a custom Canvas tailored to meet their needs." Creating these custom video loops can easily get expensive. Here are some basic tips for creating your own.
How to Create Spotify Video Loops – Spotify Canvas
Log in to Spotify for Artists.
Go to Music.
Pick a song and click 'ADD CANVAS.'
Click the big + then upload your file.
Spotify Canvas will appear within one hour.
Canvas Ratio: 9:16 Height: At least 720px
Canvas Length: 3 secs – 8 secs File
Canvas Format: MP4 or JPG only
Tips for Creating Spotify Video Loops
When choosing which video to sample for your Spotify Canvas, here are some helpful tips to consider. The Spotify for Artists editor will let you crop the portion of the video you want to use.
Avoid using footage with talking or singing.
Don't use any clips with flashing effects or quick cuts.
Canvas is a vertical video format; most of the action should be in the upper half of the screen.
Don't put any text like artist name, track, or album names.
Keep your brand front-and-center by telling a story.
Keep your Canvas fresh with new releases.
Spotify offers continuous loop, hard cut loops, and rebound loops to play with – use them all.
Spotify will let you review the Canvas before it goes live. Do so and make sure the video loop doesn't feature any harsh cuts or jarring distractions. It should draw you into the content, rather than push you away from it. Spotify is slowly making the video loops feature available to more artists in a variety of countries.
However, Spotify Canvas is not available in Russia, Ukraine, Belarus, Kazakhstan, Moldova, Algeria, Bahrain, Egypt, Jordan, Kuwait, Lebanon, Morocco, Oman, Palestine, Qatar, Saudi Arabia, Tunisia, United Arab Emirates, and India.