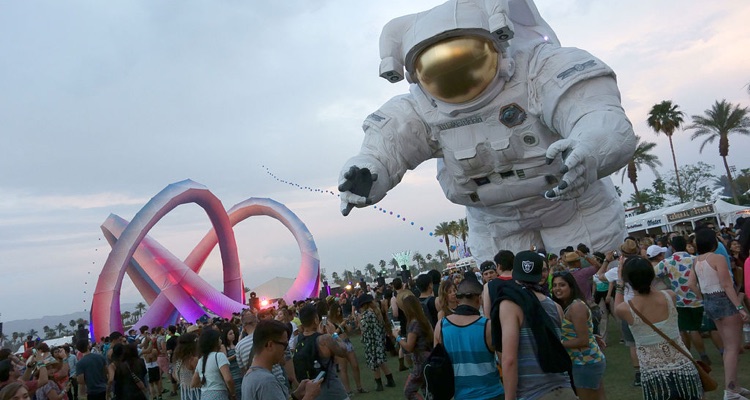 Portland-based music festival promoter Soul'd Out Productions' 'radius clause' lawsuit against Coachella has officially drawn to a close, a new courtroom document reveals.
Digital Music News has covered the years-running complaint – and plaintiff Soul'd Out's qualms with the "radius clause" that Coachella acts are required to accept – since shortly after its arrival in an Oregon federal court. In brief, Coachella contracts stipulate that performers must abstain from playing different North American music festivals, hard-ticket gigs in Southern California, and certain other shows between December 15th and May 1st.
Coachella, which typically takes place in April, argued in legal documents that the provision serves to "protect AEG from competitors unfairly free-riding on its creative choices in selecting its artist lineup." But Portland-based Soul'd Out, which had multiple musicians back out of its festival to comply with the radius clause, alleged that the stipulation constituted a violation of Oregon and California antitrust laws and enabled Coachella to "monopolize the market for popular music."
A federal judge ruled in March of 2019 that the radius clause didn't violate smaller festivals' legal rights, though an appeals court overturned the decision this May. The high-profile courtroom confrontation had been moving forward, but a new filing – which DMN obtained – indicates that the parties have put the lawsuit to rest.
"The above-captioned matter is dismissed with prejudice, no interest, no costs, and each party to bear its own attorneys' fees," reads the concise document.
It's unclear what prompted AEG/Coachella and Soul'd Out to settle their case – which spanned multiple years, once again – so abruptly. At the time of publishing, Soul'd Out hadn't addressed the matter on its website or its Facebook account, nor had AEG Presents or Coachella itself. Similarly, the entities' legal teams don't appear to have posted statements on the subject.
Beginning with the most obvious possibility, though, the move could well have resulted from the COVID-19 pandemic and its associated lockdown measures. Soul'd Out and Coachella, like most every other music festival and the vast majority of crowd-based events, were canceled this year. The prospect of fighting an expensive legal battle – especially when live music's precise return window is up in the air and radius clauses are currently of little concern, for organizers – may have proven unappealing.
Earlier this month, following the announcement of Pfizer's successful COVID-19 vaccine trials, Live Nation stock jumped 29 percent. The Beverly Hills-based concert promoter is banking on a 2021 comeback for live music, and fans have made clear that they're eager to resume attending shows.