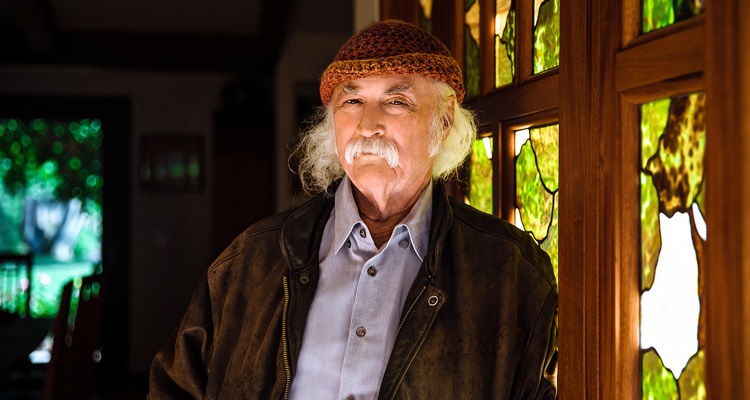 Following high-profile catalog sales from Stevie Nicks and Bob Dylan, The Byrds cofounder David Crosby has revealed that he intends to cash out of his own publishing rights because he's unable to tour amid the pandemic "and streaming stole my record money."
David Crosby recently unveiled the plans to sell his catalog – and explained the reasons behind the decision – on social media. The 79-year-old Crosby, Stills & Nash cofounder, who is the same age as Bob Dylan, broached the subject when responding to a fan, before elaborating upon this initial message.
"I am selling mine also … I can't work … and streaming stole my record money," the two-time Rock and Roll Hall of Fame inductee Crosby stated. "I have a family and a mortgage and I have to take care of them so it's my only option … I'm sure the others [who have sold their catalogs] feel the same."
Crosby, who's released seven albums as a solo artist and contributed to Crosby, Stills & Nash hits such as "Wooden Ships," then replied to an individual who voiced concern with the sale from a fan's perspective.
"If we could get paid for records and play Live," responded David Crosby, "we would not be doing it [.] None of us.
"Streaming does not pay us for records an[d] COVID has shut down all work live ….is that clear enough for you?" Crosby subsequently penned.
A different supporter noted Bob Dylan's highly active recording and touring schedule and asked whether Crosby would ever cease creating. Besides his and Dylan's shared age, career length, and interest in selling their catalogs, The Byrds opened their 1965 debut album, Mr. Tambourine Man, with a highly successful rendition of Dylan's "Mr. Tambourine Man" – one of four Bob Dylan covers on the 12-track effort.
Crosby responded: "Writing still … recording too but seems like I've been forcibly retired," presumably due to the coronavirus crisis as well as the associated health concerns and concert restrictions.
Finally, the Grammy winner (and 10-time nominee) shed light upon the specifics of his financial situation, including by relaying that he's not "worth millions" and declining to name his asking price for the publishing rights. One Twitter user reiterated that Celebrity Net Worth has valued Crosby at $5 million – a figure that the artist says is "exaggerated" and "also includes the stuff I'm selling."
In our latest analysis of actual artist royalty statements, we estimated that Spotify pays between $0.003 and $0.005 per stream.  That's not much — even for highly-streamed artists like Crosby.
Last week, a British lawmaker said that multiple artists are hesitant to participate in the government's ongoing streaming-royalties investigation "because they fear action may be taken against them" if they do so.