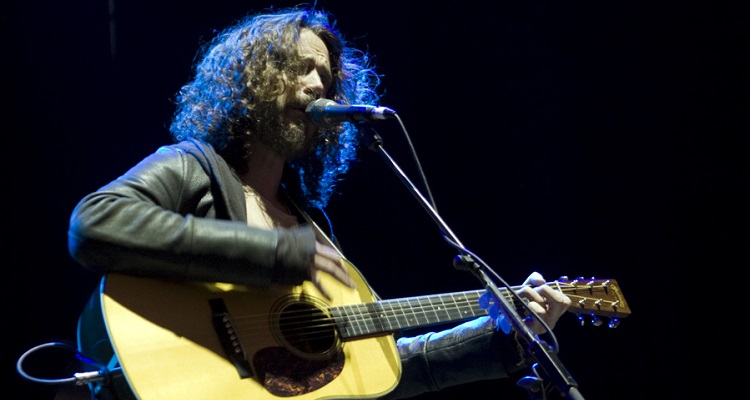 Soundgarden fans have received a Christmas surprise in the form of a Chris Cornell cover album, No One Sings Like You Anymore, Vol. 1, which features 10 tracks from the late musician.
Billed in an official announcement message as the fifth and "last studio album" from Chris Cornell, who passed in May of 2017, the roughly 36-minute-long work arrived on streaming services today, December 11th. (CD and vinyl editions, available for preorder presently, won't ship out until March 19th, however.) Vicky Cornell, who represents her husband's estate, released the album with "her children, Toni and Christopher," and in coordination with Universal Music Enterprises, the label behind many UMG compilation efforts and album rereleases.
The three-time Grammy winner (and 16-time nominee) Cornell "personally selected" each of the songs, according to the release, and recorded the covers – including both their vocals and their instrumental portions, though producer and mixer Brendan O'Brien helped with the latter – in 2016.
Harry Nilsson's "Jump into the Fire" (1971), John Lennon's "Watching the Wheels" (which was released posthumously in 1981), and Prince's "Nothing Compares 2 U" (1985) are among the renditions on No One Sings Like You, which closes with the oft-covered 1966 hit "Stay with Me."
Addressing the surprise release in a statement, Vicky Cornell said, in part: "This album is so special because it is a complete work of art that Chris created from start to finish. His choice of covers provides a personal look into his favorite artists and the songs that touched him."
Additionally, Toni Cornell, Chris and Vicky's 16-year-old daughter, indicated in a statement of her own: "When my dad was making this album, it was so fun – I remember waking up in the morning, having breakfast with him and going with him into the studio. … We got to experience so much with him and have so many amazing memories. I'm really happy to be sharing this album. We love you, daddy."
More broadly, the cover project is a positive for fans because it's unclear when – or whether – Soundgarden's much-anticipated final album will release. Last December, Vicky Cornell filed a lawsuit against the surviving Soundgarden members, alleging that they'd withheld royalty payments in an effort to make her turn over recordings that Chris Cornell left behind on his laptop.
Vicky maintains that her husband created the works independently of Soundgarden, who intend to use them in their last album, and that she is the rightful owner as a result. Nevertheless, Vicky also said that she'd be willing to provide the recordings so long as she had a say in the creative and promotional direction of the band's seventh studio album.
Talks of a potential compromise quickly fizzled out, though, and the Seattle-based rock band levied an ugly countersuit, characterizing Vicky's case as "spurious" and "lamentable," besides stating that she'd refused to give up control of the group's social media accounts. A judge in August sided with the Soundgarden defendants in transferring the case from Florida (where Vicky resides and filed the suit) and to their home state of Washington.