How much of your $120/year Spotify Premium subscription fee goes to artists? A new Spotify Unwrapped tool can help you find out.
On Friday, the Union of Musicians and Allied Workers tweeted an interesting tool. "You paid Spotify $120 this year if you had a premium subscription," the tweet begins. "Guess how much of that went to the artists you love? Guess how much of that went to the executives, shareholders, and artists you didn't even interact with?"
The UMAW included a link to a 'Spotify Unwrapped' tool that seeks to answer those questions. I was curious, as a fairly new Spotify subscriber. I used Google Play Music from its inception in 2014 until 2019, when I decided to bail before it shut down. This is my first full year as a Spotify Premium subscriber. How much of that $120 subscription fee went to the artists I listened to?
Spotify's API says I listened to 30,163 minutes of music in 2020. That's about 503 hours of music listening for the year, rounding up slightly. That means I averaged around an hour and a half of music listening per day in 2020. Yet, only $35.17 (29.17%) of my yearly Spotify Premium cost went to support the artists I streamed in 2020.
That averages out to be around $0.0038 per stream to artists in my Spotify Unwrapped this year.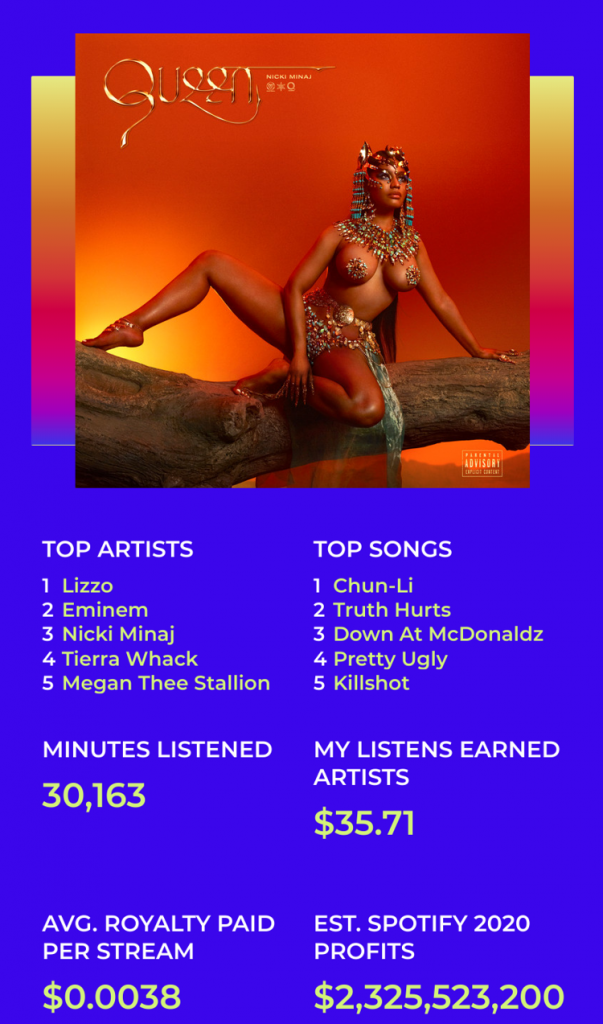 This new Spotify Unwrapped tool shines a light on how poor artists' royalties are from music streaming.
Spotify's royalty rate is always changing because it's dependent on several factors. Your region and whether your account is ad-supported or Premium are just two factors. Artists who have more Spotify Premium fans will receive higher payouts than those who are supported primarily by free users.
The tool serves to highlight – at a personal level – how little of the subscription price goes to artists. Lizzo, Eminem, and Nicki Minaj dominated my Spotify Unwrapped 2020 this year – but they earned less than $0.0038 per stream of my listening. Despite providing an average hour and a half of enjoyment per day – the artists received less than 30% of the fee collected.
Artists' royalty rates appear to be on a downward trend, too. An analysis just two years ago in 2018 estimated that Spotify's average royalty rate to artists was $0.0054. That number has dropped significantly in just two years; imagine what it will be in 2025.
The takeaway is pretty obvious. While Spotify sees rising subscriber accounts and record revenues, the artists supporting the platform see pennies.